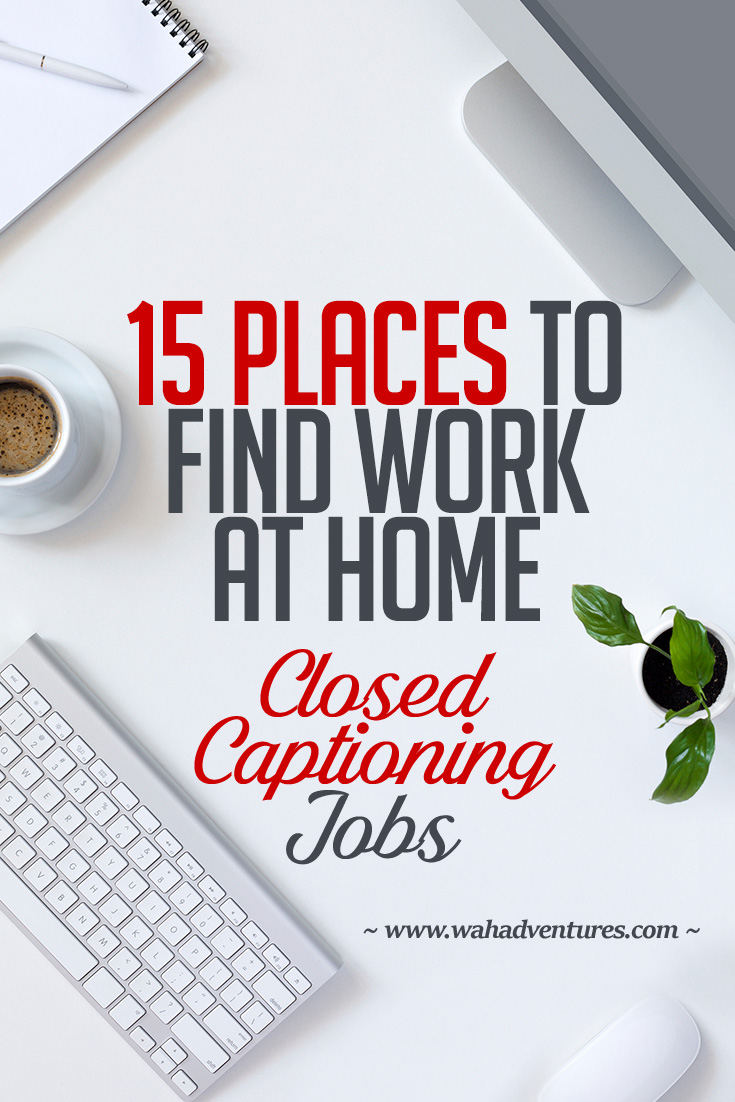 If you've ever watched a TV show or movie and words came up on your screen relating to what's being spoken, you've had an experience with closed captioning.
Need Easy Extra $250+/Month For Free?
My parents used to joke with me as a kid about tiny robots in the TV being responsible for the words on the screen!
Fortunately, now I know that there are real people behind every word.
And, these people often work from home to bring closed captioning to your screen.
Closed captioning is incredibly important for the deaf or hard-of-hearing, who may not be able to understand any words from a show or movie without being able to read them.
Although closed captioners generally don't need a lot of experience, or a college degree, companies that hire closed captioners expect excellent quality, because of the importance of the job.
If you're interested in becoming a closed captioner, let's find out a little more about the two types of captions you can do.
What Is Offline Closed Captioning?
Offline closed captioning is provided by transcribers who caption pre-recorded television shows or movies.
Basically, if it doesn't air live, it's subject to offline captioning, rather than real-time captioning.
This type of captioning will require you to have an understanding of time codes.
Time codes are necessary to break up your captioning into the appropriate frames, so that your captions sync correctly to what's being said in each frame.
It may not always require years of professional experience, but you definitely need to understand how it works, and at least have some basic experience.
What Is Real-Time Captioning?
In contrast, real-time captioning is any captioning provided on live television.
So, live talk shows, charity fundraisers, or news programs, for example, will require real-time captioning, because they weren't pre-recorded.
Real-time captioners are typically much more skilled, since they need to have extremely fast typing skills with high precision.
They are usually expected to produce captions within 2 seconds of each word spoken on live television.
Because this type of captioning is more technical than offline closed captioning, it typically pays higher rates and may require plenty of professional experience.
How To Become a Closed Captioner
What you need to do to become a closed captioner relies heavily on the type of closed captioning you want to do – real-time or offline.
Some offline closed captioning companies will require some professional experience with captioning or transcription work.
However, they usually don't require a college degree.
But, real-time captioning often requires a lot of experience and a related degree.
Real-time captioners are often court reporters as well, because they already have the exceptional listening and typing skills needed for real-time captioning.
Check through the requirements of each company to make sure you meet them with your skills and experience.
As for equipment, there are some things that you should consider having before getting started as a closed captioner:
Want more money?

Easy Extra Cash! Join the famed Vindale Research site and earn rewards by doing nothing more than sharing your experience of using the internet. Guaranteed 100% free membership.


Reliable computer with access to an office suite, like Microsoft Office
Headset to help you accurately hear what's being captioned
Foot pedal to slow down, or stop, playback easily
Separate monitor, or television, to view the programming as you caption (reading lips can be an excellent skill to have!)
Closed-Captioning software; some companies may recommend a specific one
Dedicated phone line for business use
Read More: 30 Best General Transcription Jobs from Home, No Experience Required
How Much Does a Closed Captioner Make?
Closed captioner salaries can vary greatly, depending on how much work they do per week, their employment status, and the technical aspects of the job.
In 2015, the United States Bureau of Labor Statistics estimated that a court reporter/closed captioner average pay rate was about $23.80 per hour. The lower tier made about $27, 180 per year, and the highest tier made just over $90,000.
In reality, it all depends on your experience and professional assets.
With a college degree and extremely good typing skills, you can get started with real-time closed captioning, which is where the higher salary levels are.
Still, even the average pay rate is great, and it's achievable if you have the skills to be an accurate, and speedy, closed captioner.
Closed Captioning Companies That Pay You To Work From Home
These companies may not always be hiring, but they do occasionally have open positions for their captioning teams.
Aberdeen hires for a number of captioning services, including offline closed captioners, real-time captioners, and caption editors.
Most of the programming Aberdeen deals with is Christian-based, so you'll be required to have a good grasp of Christian terminology.
The company uses both independent contractors and employees, depending on the position. Real-time captioners can make $75 per hour, whereas other captioners start out around $12 to $15, depending on experience.
ASC Services (Formerly Morningside Partners)
ASC Services provides captioning services to top clients, like ABC, CNN, and Fox News. The company hires for several positions, including at-home news transcribers and captioners.
Must have at least 3 years of work experience as a captioner or transcriber, knowledge of current events, experience with AP style, and a bachelor's degree in English or journalism.
Caption Colorado offers part-time and full-time captioning positions for real-time captioners. Flexible schedules, accessible technical support, 401(k), and vacation pay are just some of the benefits you can expect to receive from the company.
You must have at least 98% accuracy and complete a 30-minute real-time captioning assessment. Those with the best scores will be invited for further interviewing. The company says that you may be required to take more than one assessment throughout the hiring process to ensure it finds the best candidates.
Caption Max looks for both offline and real-time closed captioners to provide its services to clients. You'll need at least one to two years of experience for either position, and will be considered an independent contractor, rather than employee. Its job listings state that you'll also need to be open to a flexible schedule.
For real-time captioning, an A.A. or B.S. in Court and Conference Reporting, or a similar degree, is required.
Caption Media Group specializes in offline closed captioning for television, movies, videos, and other pre-programmed recordings. You'll need at least 2 years of experience with closed captioning software.
The company doesn't always list its jobs on its website, so you may want to keep an eye on Indeed, where it sometimes lists openings. Additionally, you can send Closed Media Group a contact request using the form on its website to inquire about possible openings.
CaptioningStar provides Remote Live Captioning Opportunities to many deserving Captioners.
CaptioningStar is a prominent Captioning Service provider in the industry with professional captioners delivering over 99% accuracy.
They do offer jobs for experienced Remote Live Captioners to work from home with flexible schedules who can earn from $60/hour – $70/hour.
LinkedIn, CNBC, Wall Street Journal, Grammy Awards are very few of the clients who have been using their services.
CrowdSurf is a marketplace for finding transcription and captioning work. It's set up much like other freelance marketplace websites, like Upwork or Guru, but is focused on matching captioners and transcriptionists with those in need of the services.
The website focuses on short tasks to allow freelancers the most flexible schedules. Once you create a profile and enter your tax information, the CrowdSurf team will review your information and usually responds in about 24 hours.
Independent contractors can work for Rev as captioners. You'll earn between $0.45 and $0.75 per audio minute, depending on the complexity of your captioning task. The work is flexible, and you can choose when you're able to work.
Rev pays weekly with PayPal. You can apply by filling out the form on the Rev website, and you'll typically hear back from the company within 48 hours.
RNK Productions specializes in transcription and captioning of television programming, movies, videos, and other pre-recorded programming.
You'll get onboarded as an independent contractor, rather than employee. You can request further information about job opportunities via the website, or e-mail the company your resume.
Talking Type Captions handles closed captioning and subtitles for movies, videos, and television programming. The company provides services for such stations and companies as A&E, Big Fish Entertainment, and The History Channel.
You can use the contact form on the website to inquire about possible job openings for offline closed captioners or real-time captioners.
Vitac provides captioning services to clients around the world, for both live and pre-recorded programming. Some of its clients include Lifetime, BBC America, and Discovery Channel.
Offline closed captioners are required to have a Bachelor's degree. The real-time captioning position doesn't specify the need for a degree, but does require a typing speed of at least 225 WPM. For real-time captioning, you'll also be required to complete a one-week, on-site paid training.
Other Places To Find Closed Captioning Jobs From Home
Not all companies advertise their open captioning jobs on their websites, so it's good to have a few backup places when searching for them.
The good part about Fiverr is you can set your deadlines, so you can allow yourself to have a fairly flexible schedule. If you have plenty of work lined up, set your account in "vacation mode" to pause new orders.
Guru – Guru is a freelance marketplace where you can search for freelance jobs posted by clients, like captioning jobs. You'll be able to see the prices offered for the job, and apply to those that meet your desired rate.
Indeed – Indeed is an excellent website for finding work from home jobs, including captioning jobs. You can search "Captioning" jobs and indicate "remote" or "home based" in your search.
Doing so can help you find more companies that may not advertise their captioning jobs on the websites, but instead, use job search sides, like Indeed, to post their openings.
Upwork – Upwork is a freelance marketplace similar to Guru. However, it tends to have more job availability and a better system in place to handle spam postings.
Search for captioning jobs in your areas of expertise, and you can bid on the project with your desired rate. Make sure your profile stands out with a portfolio of past work, if applicable, and a description of your experience.
No matter where you look, remember to keep your resume updated. Once you complete a successful project or job, add it to your resume.
Don't be afraid to ask your employer or client for a testimonial that you can display on your website or resume.
Good luck!
Related Posts:
Earn Everything… nearly!

Join e-Poll, one of the few faithful and honest survey panels and earn cash - paid via PayPal - gift cards for Amazon, Best Buy, iTunes, Starbucks, and Walmart, plus Retail e-vouchers.
The surveys are aimed at entertainment-related research, covering such things as personal TV watching habits, give feedback on new TV commercials or to review DVDs that are sent to your home.
For USA residents aged 13+ No hidden fees and completely free!