14 Best Paid Online Focus Group Companies in 2023
Updated on: by Amy Kennedy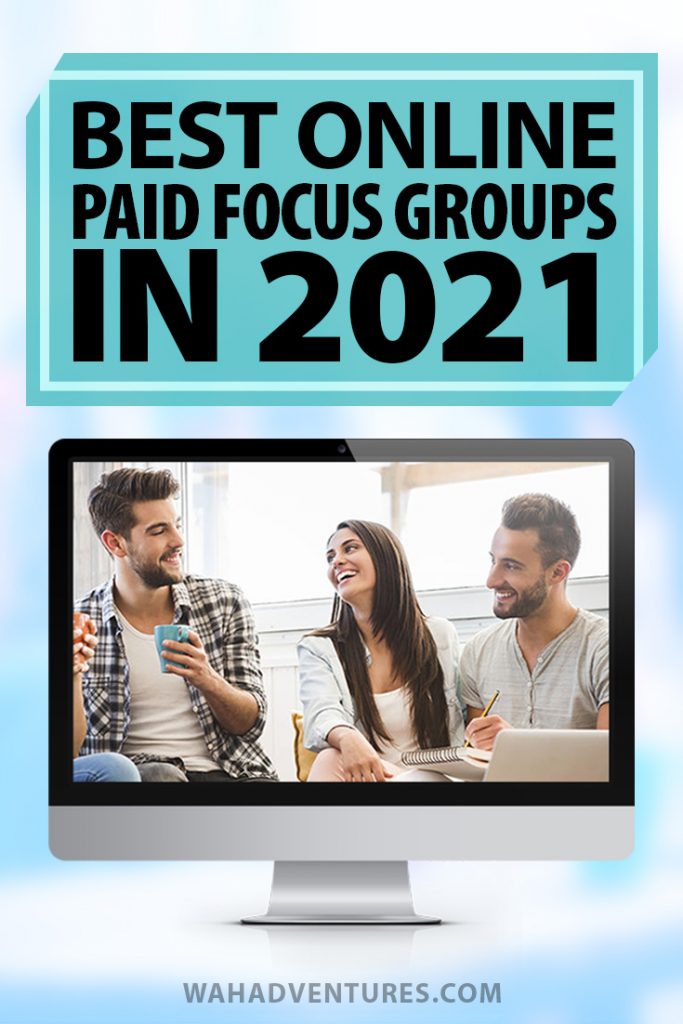 We love paid survey sites as much as the next guy.
Need Easy Extra $350+/Month For Free?
They're great for earning some extra money in your spare time.
Surveys don't take very long to complete, and most of them pay at least $1 or $2.
But, what if you could earn more than that for sharing your opinions?
I'm talking about $100 or more for an hour or so of your time?
Seriously.
It's possible with paid focus groups.
Market research is constantly needed for brands to improve, pump out new products and services people will love, and make sure they're reaching their target audience.
That's where you come in.
If you love sharing your opinions to help mold brands into something even better, then you should definitely look into joining paid research studies online.
What's a Focus Group?
Think of focus groups like a longer, more in-depth survey.
And, one that pays a lot better too.
There are both in-person and online focus groups.
If you want to find focus groups local to you, a quick search on Google for 'focus groups near me' should land you some results.
But, today we're going to talk about online focus groups.
For those who enjoy taking online surveys, these focus groups offer similar convenience.
Need Easy Extra Cash?
Pinecone Research, a leading name in online survey panel honesty, absolutely guarantees $3 cash for every survey you complete!
Take advantage of their time limited New Membership drive and register NOW. Join today: 100% free!


You'll never have to drive to find a focus group, nor will you have to sit in a room with strangers for a couple of hours to complete it.
These focus groups are done all online.
Companies pay focus group companies to conduct the research they need to know.
The feedback will help them tailor their products and services to meet the needs of their customers.
Companies may even use research to find out more about their competitors so they can stand out among the competition.
The focus group companies are the ones that pay participants to take part.
A lot of companies are realizing how important online focus groups are, especially if they want to break into a global market.
Online focus groups allow companies to get a better understanding of what's popular around the world, not just in one city or country.
On the other hand, some companies want to target smaller areas at a time.
An online focus group is also a great way for them to do that by specifying that only people in a certain location can participate.
Most online focus groups take a couple of hours at the most.
In-person focus groups may take several days and sessions to complete.
During a focus group, you may need to hop on a Skype video conference call, enter an online chat system, or record your screen.
Others will only require you to fill out detailed answers with an in-depth survey.
How to Find Focus Group Online Jobs That Pay Cash
Unfortunately, there aren't tons of paid focus group opportunities that exist online.  Paid research studies online can come few and far between, even when you use websites that focus on them.
You still have to qualify for a study, and the likelihood of qualifying for each one is very slim.
Companies want specific people with specific interests to provide them feedback, and you can't meet every requirement.
One of the best ways to maximize your earnings by participating in paid focus groups is by joining as many of the top focus group websites that you think you can handle.
The more you're a member of, the better your chances of receiving offers.
Lucky for you, I'm outlining the top 10 websites that should have you start earning in no time!
Top 10 Best Paid Online Focus Group Companies
Survey Junkie isn't just about surveys, although it often has tons of them available for its users.
It also has paid focus groups for some panelists who qualify based on their survey answers or profile information.
If you pre-qualify for one, Survey Junkie will notify you via an e-mail invitation.
Survey Junkie also has some mobile surveys available through its app.
If you qualify for any of those, you'll get a notification via the app.
Survey Junkie has a points system where 1,000 points equals $10, so it's easy to figure out.
On average, it takes about 20 minutes to earn 1,000 points through surveys on Survey Junkie.
However, panelists who have participated in focus groups say it's possible to earn up to $120 an hour for them, depending on the type of focus group.
You only need 1,000 points to redeem them for prizes, including electronic gift cards and PayPal cash.
Earn Everything… nearly!
Join Opinion Outpost, one of the few faithful and honest survey panels and earn cash and gift cards for your opinion. Stack your points and redeem them: Simple! No hidden fees and completely free!


Join Survey Junkie here or read the review.
MySurvey focus groups aren't very frequent because it's mostly a survey site.
You should expect to only be invited to a couple a year (unless you're one of the lucky ones that qualifies for more!).
Still, they tend to pay good money for their paid focus groups.
Some online focus groups can take a few days to complete, but you'll be rewarded well.
In the ballpark of hundreds to thousands of dollars, actually, according to some panelists who have participated.
So, it may be worth your time to sign up and wait for opportunities to come to you.
You may be one of the lucky panelists that qualifies for high-paying focus groups.
If not, you can still always participate in the online surveys.
MySurvey pays up to $5 per short survey.
Most people who qualify for paid focus groups through MySurvey did so because of their answers for a short survey.
MySurvey pays in points, which you can redeem for one of several gift cards or PayPal cash.
Join MySurvey here or read the review.
Toluna is known for its high-paying surveys.
Compared to most sites that pay a few dollars per survey at the most, the highest paying Toluna surveys can make you between $10 and $30.
Toluna doesn't have a specific membership for those interested in paid focus groups.
Instead, you may get invited to them after you complete surveys.
Make sure your profile is filled out and updated regularly to have more survey and paid focus group opportunities.
Toluna also goes with a points system for rewards.
You can earn anywhere from 15 and 50,000 points per survey or focus group.
You can redeem your points for cash via check, bank transfer, or PayPal transfer.
Make sure you redeem them within 12 months, because they'll expire after that!
Toluna also has a mobile app that makes it easy to take surveys on the go.
However, most focus groups will require you to hop onto your computer to complete them.
Join Toluna here or read the review.
Harris Poll Online offers both short surveys and in-depth online focus groups.
The site has been around for years, and is actually one of the first survey sites I joined.
It runs on a points system, which is a bit of a drawback.
Fortunately, the points system is super easy to use and it's a quick process to redeem your points.
The focus groups will typically take place in a chatroom or message board-like setting.
However, there are sometimes opportunities for phone surveys are focus groups by mail.
Pay for Harris Poll Online focus groups averages around $50.
Join Harris Poll Online here or read the review.
Finally, there is VIP Voice, which has been a popular survey taking website for years.
VIP Voice partners with several startups and Fortune 500 companies to perform market research for them.
As a member, you'll have the opportunity to shape the future of these companies, which is exciting!
Surveys here are mostly low-paying compared to other sites, but they can also qualify you for larger paid focus groups.
These longer studies can make you up to $100.
You'll earn points instead of cash, but the points system works differently than most.
You can use your points to bid on prizes you want or enter yourself into sweepstakes.
So, you may end up winning big by spending only a few points!
Brand Institute provides various services to the healthcare industry and pharmaceutical companies, including market research.
Specifically, it helps healthcare brands create names and taglines that pack a punch.
Some of the things it focuses on in its focus groups are brand names, customer satisfaction, concept testing, tagline opinions, and more.
When there's a new focus group to take part in, Brand Institute will notify you by e-mail.
If you get an invite, your profile already meets the main qualifications, so you won't have to worry much about not qualifying.
Most members say that the studies for Brand Institute are a bit more in-depth than those from other focus group websites.
This is likely because they're studies for the medical industry.
Most studies from Brand Institute are ordered by large pharmaceutical companies, placing them of high importance.
However, panelists also say the pay is good.
If you are in the medical industry, though, you may be able to qualify for, and earn, more.
You can get your payments through PayPal or by check.
Engage In Depth offers personalized market research to companies of all shapes and sizes.
It's known for its high-paying focus groups that pay up to $250 for a couple of hours of your time.
Even the lower-paying focus groups average about $50.
Engage In Depth offers both a healthcare-focused panel and a business-focused panel.
If you have ties to the medical industry, you can join the Healthcare Professionals Panel.
Otherwise, join the Business Professionals Panel as a consumer or business professional.
Once you sign up, you'll answer some questions about yourself to give Engage In Depth a better idea of you, your household, your shopping preferences, and more.
Then, it can better match you to focus groups you may qualify for.
You'll get invites to your e-mail inbox when it finds a match.
You get actual cash after completing a focus group, rather than points to redeem.
You can cash out with a check or PayPal cash.
Studies for Engage In Depth may be via phone, webcam, or computer.
FocusForward is all about research for companies, and paid focus groups are just one of the ways they conduct market research.
FocusForward has a specific panel just for surveys and paid focus groups known as Survey Squad.
You can join by clicking the "Join Our Panel" link at the top of the website.
A quick look at some of its current research projects show that there are several available that will take less than 2 hours and pay $50 to $125 or more!
There are also phone studies that may take a few weeks but will pay much more than a typical focus group.
So, there's a lot of variety here and a good chance to earn some serious money.
FocusForward says that its average rewards for focus groups are in the $100 to $300 range.
You can also complete shorter surveys, which will pay in points. 1,000 points equals $1.
Surveys are offered frequently, but you'll definitely earn more from focus groups and you won't have to deal with the point system.
After a study is complete, you'll receive a check in the mail in about 6 to 8 weeks.
MintVine focuses mostly on paid surveys, but it also offers focus groups.
The website uses a point system as rewards for its surveys and focus groups, but you can redeem them easily and get cash to your PayPal account.
Make sure you fill out your profile completely when you sign up, as this is how MintVine will match you to surveys and focus groups you'll likely qualify for.
When you pre-qualify, you'll receive an e-mail link from MintVine.
After a survey or paid focus group is completely closed – as in, all respondents have completed it – then you will receive your points.
They'll be pending on your account for 14 days, at which time you can then redeem them.
So, there's no minimum point amount you have to reach first.
Although no specific amount is mentioned on the website for focus groups, most panelists say they earn an average of $10 to $50 per hour for each one.
Ipsos I-Say has long been a popular survey-taking website.
But, it's currently one of the largest online focus group websites, too.
Although there are several paid surveys available at any given time, paid focus groups for Ipsos I-Say are where the real money is.
Some of them pay $100 or more an hour.
But, if you do qualify and take shorter surveys, there's a chance you may qualify for online focus groups, so they still can be worthwhile.
When you complete a survey or focus group, you'll earn points instead of cash.
Points vary depending on survey length.
You can also earn loyalty points by participating in a lot of surveys or focus groups.
Each time you reach a certain number of surveys, based on the loyalty tiers, you'll advance to the next tier.
When you reach the next tier, you get bonus points.
You can redeem your points when you have at least 500 in your account.
Ipsos I-Say offers various gift cards for rewards, or you can also choose a prepaid Visa or PayPal cash.
Vindale Research is a veteran in the realm of market research.
Over the years, it has built a robust reputation for its consistent offering of high-paying surveys, with some surveys fetching as much as $50 each.
Besides surveys, Vindale Research also hosts online focus groups where participants can engage in detailed discussions about a product or service.
These focus groups offer remuneration of up to $100 per session. What sets Vindale Research apart is its direct cash payout system.
Unlike many other companies that work on a points system, Vindale pays in cash, which can be received either via PayPal or by check.
User Interviews presents a unique, more interactive experience to its participants.
The company's research focus ranges from simple surveys to in-depth product testing and website usability reviews.
Depending on the nature of the study, focus groups can occur online, over the phone, or in person.
The compensation provided by User Interviews is quite generous, with payouts ranging between $50 and $200 per hour of active participation.
The participants are usually paid through Amazon gift cards.
Pinecone Research has been a reliable platform for consumers to voice their opinions.
They offer both surveys and in-home product testing.
Each completed survey fetches the participants points, which can be subsequently redeemed for cash or prizes.
In addition, Pinecone Research also hosts online focus groups on occasion.
These focus groups provide participants an opportunity to delve deeper into the topics at hand and can earn them up to $75 per session.
Respondent is a high-end market research platform that caters primarily to professionals and businesses.
The platform offers opportunities for both one-on-one interviews and group discussions for research purposes.
Respondent is known for its high pay rates, with compensation for focus group participation often falling between $100 and $250 per hour. Payments are typically made through PayPal.
The research projects on Respondent are primarily related to the fields of software, finance, and business, making it an ideal platform for professionals in these areas to find ample opportunities for participation.
Join Ipsos I-Say here or read the review.
Read More: The Top 19 Legit Mystery Shopping Companies To Work Remotely
Conclusion
Online focus groups won't likely pay all your bills.
But, just as you should with online survey sites, consider joining as many focus group sites as you can handle.
You'll have more opportunities for more frequent focus groups to maximize your earnings.
Check in occasionally to make sure your profile information is up-to-date so you can qualify for the most surveys possible.
Don't neglect to fully complete your profile as soon as you sign up!
Did we miss any of your favorite paid focus group companies? Let us know in a comment below!
Related Posts:
Earn Everything… nearly!
Join Ipsos iSay, one of the few Faithful and Honest survey panels and earn prizes, gift cards and donations. Stack your points and redeem them: Simple! No hidden fees and completely free!