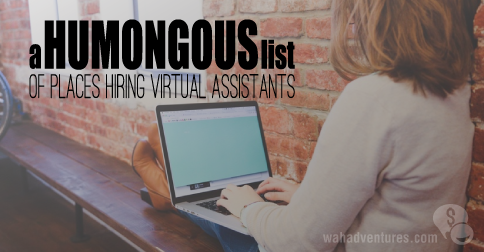 Virtual Assistant jobs are ideal for the majority of people looking for flexible work from home. Virtual Assistants, often referred to as VAs, come in many different forms. So many, in fact, that it has become a pretty generic term for anyone that works online providing support. From bookkeeping, web design, writing, blog management, social media, receptionist and hundreds of other general duties, Virtual Assisting is actively growing and in demand.
Virtual Assistants can work for themselves, finding their own clients and managing their own marketing. Or, VAs can work for companies that market and find the clients themselves, leaving you to do what you do best. Here is a massive list of over thirty companies you can find virtual assistant work (in absolutely no particular order).
eaHelp
eaHelp  is a Christian-based company that provides virtual support services to leading companies all over the world. eaHelp offers contract-based positions for virtual assistants and/or social media assistants.
Worldwide101
Worldwide101 strives to offer a higher quality of administration support to it's clients. Not only do they provide excellent assistance on the administration side, but they also provide much needed help in marketing, bookkeeping, and project managing. Virtual assistants working for this company earn between $15-$20/hr depending on their skill level and experience.
FancyHands
Fancy Hands offers a more task based virtual assistant position. You can choose the task to complete and each task is paid a set fee that you see prior to accepting the task. While the work is highly flexible and there is no time commitment, many people have complained about management and the low pay rates.
Time etc
Time Etc is a well known virtual assistant company that has provided services to top professionals. If you have commercial experience as an assistant, you may want to consider Time etc.
Assistant Match
Assistant Match does exactly what you think. They match the most qualified assistants to the clients in need of virtual assistance.
Contemporary Virtual Assistance
Contemporary Virtual Assistance has positions available from time to time that pay in the range of $9-10 an hour.
Lifebushido
Lifebushido specializes on providing virtual assistance in the real estate market.
Office88
Often hiring VAs in the fields of Web design, Admin Assistants, Translation and Proofreading, Office88 offers a lot of virtual work.
Paragon Planners
Paragon Planners have a history of hiring assistants to work virtually handling a variety of administrative, marketing and event planning.
Red Butler
Red Butler is a well-known premium virtual assistant service.  VAs assist people and businesses on a global level.
VA for Experts
VA for Experts offers a unique experience for Virtual Assistants. VAs are able to choose their clients and the hours worked. The flexibility offered is often sought out by many people interested in working from home.
Vicky Virtual
Vicky Virtual hires work from home receptionists to be a warm and friendly voice for their clients. Receptionists are paid $9.25 an hour.
Virtual Gal Friday
Virtual Gal Friday offers support to busy professionals. This is a great place to work from home as they handle administrative tasks such as bookkeeping, receptionist support and other typical VA tasks such as web design and blog management.
Upworthy
Upworthy has hired Virtual Assistants from time to time. The benefits and flexibility offered by Upworthy make this a desired position by many.
Equivity VA
Equivity hires professional virtual assistants with a college degree to work from home supporting their clients.
Ask Wonder
Ask Wonder offers a service where virtual assistants are tasked with researching information needed by their clients. There is no work commitment as researchers for Wonder can work as they want and from where they want.
Powertofly
PowerToFly focuses on supporting professional women. There's always variety of professional work from home jobs listed.
Ziptask
Ziptask freelancers work on projects for clients of Ziptask. Work can vary but your skills and strengths will always be utilized as projects most fitting become available.
Firegang
Firegang has a history of hiring Virtual Assistants to work with their Dental Office Marketing Team. This position does involve being on the phone but the pay is upwards of $15 an hour.
Virtual Office VA
Virtual Office VA hires virtual assistants within the United States who have their own home office set up. Pay is $9 per hour worked and assistants are paid out weekly.
Virtual Assistant Ace
Virtual Assistant Ace hires home based workers as sub contractors to perform VA duties. Interested in applying? Visit their application page to answer some essay-style questions and see if it's a good fit.
Uassist.us
UAssist hires Virtual Assistants in the United States to work from home using their professional skills and experience. You will be expected to be reliable and dedicated. To find out about opportunities to work for Uassist you can check their current open positions.
Vasumo
Vasumo, a personal virtual assistant company, that prides themselves on being detail oriented and having a love for helping others find work/life balance. If your passions align with Vasumo and you are highly talented in a field that you feel Vasumo could use in a virtual assistant, email your resume to careers@vasumo.com.
Virtual Assist USA
Virtual Assist USA works with a wide variety of business types and sizes. The projects vary greatly and therefore they do require a number of Virtual Assistants who are specialized in different areas. For example, if you have skills and experience that are creative, technical, administrative or strategic, then you can express interest in working for Virtual Assist USA by emailing a cover letter, resume/CV and portfolio to hello@virtualassistusa.com.
24/7 Virtual Assistant
24/7 Virtual Assistant offers assistance in a variety of fields, including real estate. Many of their assistants are able to be paired up with dedicated clients for long term work. If you have skills that could be of use as a VA, you can email a copy of resume to careers@247virtualassistant.com. Be sure to let them know if you are able to speak more than one language.
Execusist
Execusist offers work at home jobs in the virtual assistant realm, including virtual receptionists. The Virtual Receptionists position is currently advertised as paying hourly at $10.
Gabbyville
Gabbyville has had virtual assistant and virtual receptionist based jobs available. If you are interested in working remotely for Gabbyville, you can either email them [career@gabbyville.com] with your interest or watch craigslist through Adhuntr.com as I have seen several positions posted there in the past.
Zirtual
Zirtual has recently made headlines when they abruptly closed their services and over 400 virtual assistants were out of work. Thanks to Startup.co purchasing Zirtual, services were able to be re-instated and assistants were put back to work. Unfortunately, the entire debacle was a big reminder that working for a company is never fully reliable. Even big companies like Zirtual can shock us.
Staffing Type of Sites Offering VA Work
---
There are several places online that work to pair virtual assistants to businesses and people who have come to them for help finding qualified assistants. Here are a few:
Staff.com
Staff.com lets you control your VA business services and the amount you wish to charge. You can upload your resume to their site or look through current jobs posted. You do not pay Staff.com anything and you work out your payment arrangements with the party you are working directly for.
HiremyMom
This membership based site offers screened legitimate job openings. Many of the jobs open through HiremyMom are virtual assistant and administration type of work. Membership does cost the job seeker so keep this in mind. There have been many people I personally know and others who have told me they were successful finding work online through HiremyMom.
FlexJobs
Similar to HiremyMom, Flexjobs, is another paid membership site where you can find screen jobs that offer flexible scheduling. There is a variety of job types that can be found through Flexjobs.
Virtual Vocations
Virtual Vocations specializes in telecommute work. Virtual Assistant work is often posted on the site. However, while there is a free subscription option which gives you limited access to the jobs found by Virtual Vocations, you must be a paid member to see full job postings and apply through the website.
Bidding Sites to Find Clients
---
If you choose to work for yourself as a virtual assistant, you can find clients in a variety of places. From referrals, facebook group leads and craigslist through Adhuntr.com. You can also bid on work through the following places:
Freelancer.com
Upwork – formerly elance and oDesk
Thumbtack
Related Posts: