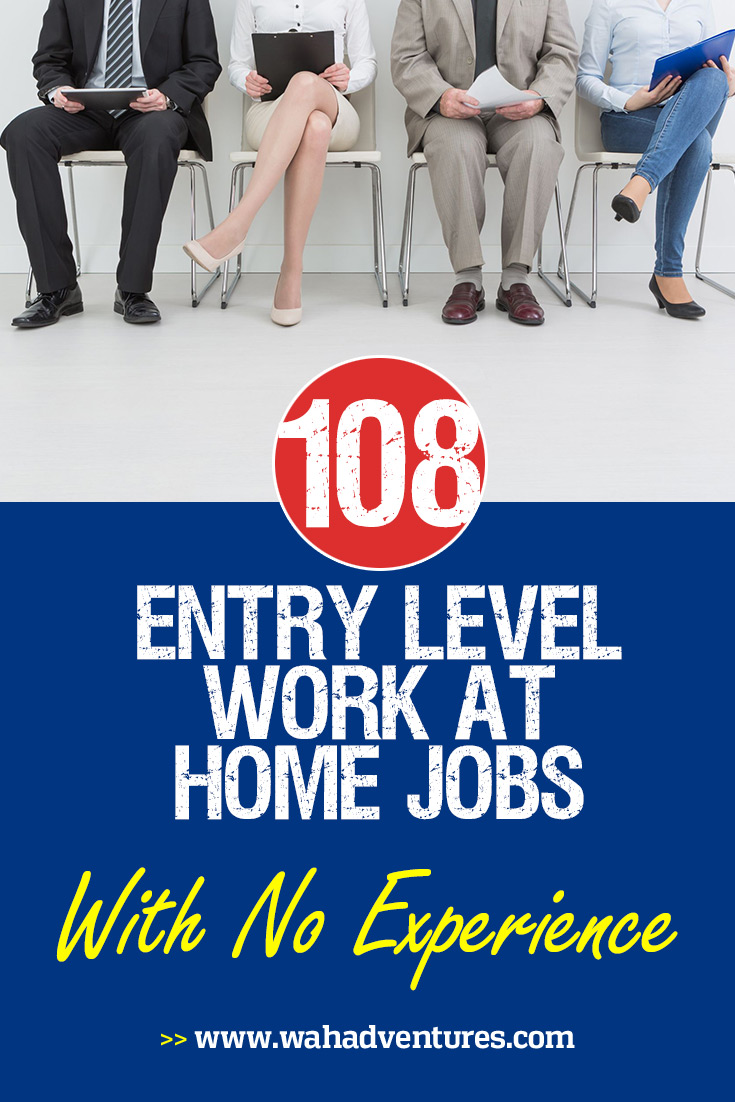 It's a common misconception that you need a college degree or loads of experience to fulfill your dream of working from home.
Need Easy Extra $350+/Month For Free?
This couldn't be further from the truth. Plenty of companies hire people to work from home starting out with an entry level position, no experience needed.
With that being said, there are, of course, some skills you may need that can help you get hired for, and excel at, certain positions.
To work from home, you generally need to be hard-working, motivated, a multi-tasker, and a self-starter.
But, as far as needing professional skills?
That's not always necessary.
Think about the skills and experience you do have, regardless of the industry they're in.
Use them to your advantage when you apply for jobs.
Chances are, you are skilled in a lot more than you think!
Finding Entry Level Work from Home Jobs
The following companies are known to hire remote employees for entry level positions.
Please note that they may not be currently hiring, but you can continue to check their websites for openings.
Chat Jobs
Apple – The tech giant Apple looks for at-home agents to provide chat support for customers who have issues with their accounts or devices.There's even a program specifically for college students that offers a flexible schedule, training, and the opportunity to move up with the company.
Arise – Work as a chat or phone agent providing customer service for Arise clients. Must start your own call center business, which will incur some fees, plus background check fee of $7.95. However, no experience is necessary and pay ranges between $9 and $14 per hour, depending on client.
Concentrix – Formerly Convergys, Concentrix offers a wide range of customer-focused solutions to brands and businesses. Depending on current clients, there are sometimes remote chat positions available.
LiveWorld – This company looks for customer service agents to provide phone, chat, and email responses to customers. Bilingual positions seem to have the most availability.
MyLivePro (review) – Work as a Live Chat Agent if you're at least 18 years old, live in the continental United States, and can pass a background check. Like its Facebook page to stay up-to-date with job openings.
Need Easy Extra Cash?

Pinecone Research, a leading name in online survey panel honesty, absolutely guarantees $3 cash for every survey you complete!
Take advantage of their time limited New Membership drive and register NOW. Join today: 100% free!


Needle (review) – Help online customers find the perfect products and earn points to redeem for rewards, including cash cards.
SiteStaff (review)– Work as a Chat Host for websites in need of live chat agents. Search Craigslist for current openings, or you can submit an application on its website.
Support.com – Support.com works with a variety of clients to provide them with small business and customer-focused services. Keep an eye on its Careers page to see what opportunities it currently has available (chat jobs are sometimes there).
TeleTech@Home (review)– Hires associates to cover customer service projects for its clients. You'll get paid training, so no experience is necessary. Schedule depends on the needs of the project, as does pay, which ranges between $9 and $11 per hour.
Televated (review)– Offers several work at home positions, like e-mail response, live chat, and appointment setting.
The Chat Shop – Native-level English and excellent computer knowledge needed, but no requirements for experience. Must be able to work 35-40 hours per week. Pay is said to be $10 per hour to start.
Uber – The popular ridesharing company, Uber, looks for customer service agents to help people via chat and email.
Read More:  Top 38 Email & Online Chat Jobs from Home
Data Entry Jobs
Axion Data Services – It's ideal to have at least two years of data entry experience here, but what you've done in college could be enough. Each applicant must also pass a criminal background check to move forward in the process.
Capital Typing – There are open positions for both content writers and transcriptionists here. Transcriptionists can choose full- or part-time schedules and have access to flexible hours.
DataPlus – This company doesn't have an actual jobs page, but it's reported that you can send details about yourself along with your resume to the email shown on the contact page.
Dion Data Solutions – This company doesn't always hire independent contractors but will instead open up its positions as needed for client orders.
Gorge Warehouse – This company looks for contractors who can type at least 30 WPM and have experience with programs like Word and Excel. Pay is $10.50 per hour.
OneSpace – OneSpace is a platform where you can find a variety of work but the most common quick jobs to see are related to data entry.
SigTrack – Get paid to process voter registrations and petitions. Your pay is based on accuracy, and you'll receive money with PayPal.
The Smart Crowd – A branch of Lionbridge, The Smart Crowd pays you to complete small data entry tasks. Pay depends on task and you'll receive your profits once per month.
Read More: 30 Best Entry Level Typing Jobs for Beginners
Freelancing Gigs
Freelancer – This is one of the oldest freelancing platforms out there, and still one of the most popular. Browse open jobs posted by clients that fit your skills and pay rates.
Guru – Guru isn't as active as other freelancing platforms, but it still has a good range of available gigs in several different skill categories. You can get paid to your bank or PayPal account once your client approves your work.
iFreelance – iFreelance is one of the few platforms that doesn't charge freelancers anything when they've made money from their client. Instead, you'll buy a monthly subscription that's much less than what other platforms charge in commissions and fees.
Toptal – Toptal is a little more competitive than similar platforms because it accepts only the top 3% of people who apply. One you're in, you can have access to clients and agencies who need your help.
Upwork – Upwork used to be Odesk but it's still as popular as ever. The platform has thousands of new jobs posted by clients daily.
You use "Connects" to bid on jobs and send proposals. If you're chosen for the job, you and your client can discuss the details through the secure messenger system.
Upwork also has a payment escrow system to protect both freelancers and clients.
Moderation Jobs
99 Dollar Social – This company helps entrepreneurs and businesses handle their social media accounts. You can apply as a Social Media Manager to create and schedule posts, respond to comments, etc. for its clients.You'll need to be available for 40 hours per week and you'll get paid a flat rate per account you take on.
Alchemic Dream – Community Managers for Alchemic Dream work with company clients to manage their forums, creating new posts and engaging with others to increase engagement. No moderation experience is necessary, but you should have gaming experience.
Ask.com – Community Moderators for Ask.com help to manage the company's social media accounts by responding to customer questions, concerns, and complaints. It's part-time and mostly on weekends and evenings.
Babycenter – Babycenter often hires moderation roles for its very active parenting forums. There are also sometimes openings for social media managers.
Crisp Thinking – You can fill out a quick application to apply for a job as a freelance moderator with Crisp Thinking. Hires all over the world, but you must choose your available time slots in UK time.
Earn Everything… nearly!

Join Opinion Outpost, one of the few faithful and honest survey panels and earn cash and gift cards for your opinion. Stack your points and redeem them: Simple! No hidden fees and completely free!


ICUC (review) – If you live in the United States or Canada, you can work as an at-home social media moderator with training provided by ICUC.
Ignite Social Media – Ignite sometimes has remote positions for social media managers and moderators to take on client accounts.
LiveWorld (review) – Hires customer service agents and moderators to work from home, no experience required. Must be 18 and authorized to work in the US.
Mod Squad – Mod Squad offers flexible moderation jobs where you can gain experience working with some of the largest brands. Pay is said to start between $8 and $9 per hour.
The Social Element – The Social Element has a global team of remote workers who focus on moderating and engaging audiences on forums and social media. There are usually several positions open at a time and many of them are bilingual.
Yelp – Yelp looks for community managers and social media managers to handle responding to people who use the Yelp platform.The Online Ambassador career might also be for you. It's a 6-month contract on a part-time schedule that requires you to live in a specific area and know a lot about things to do in that area.
You'll respond to others in your area who use Yelp to help them use the platform and connect to others in your area.
Mystery Shopping Jobs
A Closer Look – Mystery shoppers don't need experience here, but you'll need to be able to pass a shopper test with a score of 7 or more to continue with the application process. It shouldn't take more than 30 minutes.
Call Center QA – If you live in the United States, you can be a telephone mystery shopper for Call Center QA, earning $5 per call and survey you complete.
Coyle Hospitality Group – This company provides mystery shopping for restaurants, bars, hotels, cruises, spas, retail stores, and more. Find open positions here.
GBW Solutions – Evaluators for GBW can work on a flexible schedule whenever they have free time to complete shops.
Intelicheck – Become a telephone mystery shopper in the US or Canada with a flexible schedule and bi-weekly pay. Must be able to work at least 10 hours per week. Pay averages between $9 and $14 per hour.
Market Force – Market Force is one of the most popular mystery shopping companies that works with clients in various industries, like pharmacies, movie theaters, convenience stores, and restaurants.
Perception Strategies – Participate in healthcare mystery shops to improve the healthcare industry.
Pinnacle – Create your own schedule as a Pinnacle mystery shopper providing feedback to its clients.
Quest for Best – Help Quest for Best provide services to its clients by signing up and getting your information in its database. When a shop becomes available in your area, you'll get notified.
Secret Shopper – This company operates in several countries and looks for observant people to become its mystery shoppers.
Yardi Matrix – You'll contact landlords over the phone and email to ask questions about their current rent prices, amenities, etc. The information helps update listings with accurate data for renters.
Read More: The Top 19 Legit Mystery Shopping Companies To Work Remotely
Phone Jobs
1-800-Flowers – The flower delivery company hires agents to work from home providing customer service. Pays $9 per hour.
Alorica @ Home (review) – Alorica offers paid training for you to work as a call center representative for its clients. Pay ranges between $9 and $10 per hour.
BSG – BSG hires independent contractors for $8.50 per hour to work shifts between 2 and 6 hours long.
LiveOps (review) – LiveOps offers flexible schedules for its independent call center agents. Pay varies based on client and project.
NexRep (review) – Hires independent agents for several positions, including sales and customer support phone agents. Offers flexible hours and pay between $15 and $25.
Sitel (review)– Agents handle billing inquiries, product orders, technical troubleshooting, and more. You'll be paid for professional training and eligible for benefits, like 401(k), vacation and holiday pay, and more. Pay is hourly and rate depends on the project and skillset required.
Sykes (review) – Work as a Customer Service Representative with a flexible schedule. Positions are available in some areas of the United States and Canada. Pay is reported to be about $9 per hour, depending on project.
U-Haul (review) – U-Haul hires customer service representatives and sales agents to work from home. Customer service experience preferred, but not required. You'll receive paid training from home.
Ver-A-Fast (review)– This company hires work from home Customer Service Representatives. All you need is basic typing and computer skills and a quiet, distraction-free work environment.
Westat (review) – Hires work from home data collectors, and Westat provides training for the job. Pay is reported between $8 and $11 per hour, with bilingual data collectors earning higher wages.
Working Solutions (review)– Working solutions offers several positions for work at home agents, including phone work for various clients. Hours and pay vary between projects and clients.
Read More: 13 Work at Home Phone Jobs with Health Insurance
Research Jobs
Appen  (review) – Appen hires Social Media Evaluators to improve social media news feeds and search results. Flexible schedule between 5 and 20 hours per week. Pay is said to be around $13 per hour.
iSoftStone (review) – Become a Search Evaluator with iSoftStone. The company pays $13 per hour for you to rate search results. You can usually find its open search evaluator positions on Indeed and Craigslist, rather than on its website.
Leapforce (review) – Leapforce At Home independent agents evaluate search engine results. Must be 18 years old and work as an independent contractor. Pay is around $13 per hour.
Lionbridge (review) – As a Personalized Internet Assessor, you'll be evaluating internet and social media searches. Must live in the United States, own a smart phone, and be an active social media and Google user.
Maritz Research (review) – Maritz Research hires United States-based workers to conduct telephone research. Pay starts at minimum wage with opportunities for increases.
ORC International – Conduct telephone research interviews for Fortune 500 companies. Flexible shifts available, and pay starts at $8.75 per hour.
Teaching and Tutoring Jobs
Cambly – No experience needed to tutor students through Cambly. You'll help ESL students learn English by chatting with them via video. Pays 17 cents per minute, or up to $10.20 per hour, and you'll get paid every Monday with PayPal.
Enroll (review)– You can register as a tutor with Enroll in the subjects of your expertise. Your first two sessions are free to ensure you're a good fit, but after that, you'll be paid per session.
italki – You can register to teach in your areas of expertise on your own schedule with italki. You'll also set your own prices and can get paid with PayPal.
Reasoning Mind – Become a tutor with Reasoning Mind if you live in the United States and have a reliable internet connection. Must be available at least 15 hours per week.
SameSpeak (review) – Teach English to students, no experience necessary. Coaching sessions are 30 minutes each and pay $10.
Studypool – You can browse through student-posted questions to provide answers. Bid on questions and earn the amount you bid. The better your performance, the more you can make.
Tutor.com (review)– You can tutor in various subjects, provided you pass the expertise tests. You'll be an independent contractor and pay varies between complexity of subjects.
Read More: 28 Best Places to Find ESL Teaching Jobs Online
Telemarketing and Sales Jobs
AdviseTech – AdviseTech offers part-time telemarketing positions to those looking for just a few hours of work per week to start. You must sound professional on the phone and be enthusiastic, but no telemarketing experience is required.
Brighten Communications – Earn up to $18 per hour working the hours you're available between 8am and 5pm. You'll be making telemarketing calls on behalf of Brighten Communications' professional clients.
Pleio GoodStart (review) – Pleio GoodStart hires Virtual Call Center reps and managers to send medication reminders. It states that call center experience is a plus, but isn't a requirement. Pay is reported to be between $10 and $15 per hour, but depends on your project.
NexusOp (review) – You'll be hired as an independent contractor to provide customer or sales support for NexusOp business clients. Pays a base rate plus commission, with its best earners making between $10 and $25 per hour.
Transcription Jobs
1-800-Type-It-Up – This company has experienced transcriptionists, but searches for "new talent" as well. Pay ranges from $36 to $180 per audio hour and pays twice per month with PayPal.
Accutran Global (review)– Accutran Global advertises its entry level transcriber position for US and Canadian residents. Pays once per month; rate is $0.005 per word with opportunities for pay increases.
Appenscribe (review) – Must be able to commit to 10 hours per week with Appenscribe, and you'll get paid about $0.005 per word you transcribe. Pays with PayPal every 2 weeks.
Babbletype (review) – Pay is said to be about $40 per audio hour with Babbletype. Offers excellent flexibility and pays every Thursday with PayPal.
CastingWords (review) – This company hires transcriptionists from all over the world. Pay ranges between $0.60 and $1.20 per audio minute, depending on file complexity. Pays every Friday with PayPal.
GoTranscript (review) – Pays up to 60 cents per audio minute, depending on difficulty of the audio file. Has very little requirements, so it's great for entry level transcribers. Pays every Friday with PayPal or Payoneer.
Quicktate (review) – You'll transcribe several audio types, like voicemails, phone calls, and conference calls. Pays ¼ cent per word for general transcription. You'll get paid with PayPal every Monday.
Rev (review) – You'll get regular feedback from Rev, so it's good if you're just starting out with transcription. Pays between 40 and 65 cents per audio minute, with payments issues every week with PayPal.
Scribie (review) – Scribie has you transcribe short pieces of audio and pays between $5 and $20 per audio hour, depending on the difficulty level. You'll be eligible for bonuses if you transcribe a lot of audio. You can withdraw to your PayPal account daily.
Transcribe Team (review) – Offers a flexible schedule with weekly PayPal payments. Pay ranges between $0.40 and $1.25 per audio minute.
TranscribeMe (review) – Transcribe short audio files and get paid $20 per audio hour. Pays weekly with PayPal.
Read More: 38 General Transcription Jobs from Home, No Experience Required
Virtual Assistant Jobs
Assistant Match – Assistant Match provides training for its virtual assistants, so you don't need experience. However, you should have some experience working from a home office.
Fancy Hands (review) – If you're good on the phone and completing internet research, you may be perfect for Fancy Hands, which hires virtual assistants to provide tasks to its clients. Pays between $2.50 and $7 for most tasks.
Vicky Virtual – Vicky Virtual states that phone or virtual assistant experience is a plus, but not required. Pays a flat rate of $10 per hour.
Read More: An Epic List of Companies Hiring Virtual Assistants
Writing and Editing Jobs
Article Document (review)– Write articles around your schedule and get feedback from Article Document editors. You'll earn more the more you write, and can also monetize your social media channels.
BlogMutt (review) – BlogMutt uses a payment structure based on points you receive from writing assignments. You'll earn points for writing articles, and more points for each article that's accepted by a client. The higher your level, the better writing assignments you'll get, so it's a good way to gain experience as you move through levels.
Update 2/2019 – BlogMutt is now Verblio. It works the same, though, so entry-level writers can still start at the bottom and work their way up to more clients and better pay.
ClearVoice (review) – ClearVoice pays you to write articles for clients. You can search through open opportunities within your areas of expertise, or clients can assign articles to you. You can also choose your optimal pay rate to avoid low-ball offers.
Content Divas – You'll have to submit two sample articles to get onboarded with Content Divas as an independent contractor. You'll start off on a trial period to see if you and the company are a good fit.
Crowd Content – Become a writer or editor for Crowd Content, a marketplace for clients to find authors for their articles.
Domainite (review) – Domainite lets you apply for its freelance writer openings to write needed articles for its clients, who are typically small business owners.
Ezdia – You can mark your skill sets after you are signed up and approved as a writer to find articles that match with your skill sets. Most projects are eCommerce content, but can also include blog posts and technical articles.
Greatcontent – Greatcontent pays writers between $3 and $37.50 for articles, depending on length and complexity. It's flexible, so you can write when you're able.
Hire Writers (review) – Get paid $20 per article with Hire Writers and work on a flexible schedule. It also hires proofreaders and editors. Pays every week with PayPal.
Online Writing Jobs (review) – Get paid up to $50 per article writing for brands in the Online Writing Jobs market. The company allows writers from all experience levels.
Pure Content (review) – You can be a writer or editor for Pure Content. Pay varies between writing assignments.
Textbroker (review)– Textbroker will assign you a rating based on a sample article you write when you apply. You'll only be able to write articles for that rating. There are opportunities to move up in ratings and earn more money as you create consistent, excellent content.
Writer Access (review) – You can browse the Writer Access job board for opportunities that match your areas of expertise. Or, become an editor or translator. Writers earn between $0.014 and $0.07 per word.
Read More: These 37 Freelance Online Writing Jobs are Perfect for Beginners 
Work from Home No Experience Needed with Small Task Jobs and Gigs!
Sometimes, you just need some extra side cash. These websites will pay you for small tasks or gigs. Although they won't give you full-time income, they're perfect for bringing in some extra money, and with no experience necessary.
Amazon MTurk (review) – Get paid to complete small microtasks, like inputting information on a receipt or finding contact e-mail addresses on a website. Transfer your earnings to Amazon gift card or Amazon Payments account.
Clickworker (review) – Similar to Amazon MTurk, you'll complete small tasks like data tagging, text creation, or web research. Jobs are payable between 7 and 21 days.
Fiverr (review) – Create your own gigs for $5, like article writing or web design, and create add-on packages to earn some extra money.
Humanatic – Get paid to review phone calls, and make more money with higher accuracy levels. Pays with PayPal every week.
Microworkers – Complete micro jobs, like social media tasks or sign-ups, for online businesses. You can earn more money as you grow your Reputation as a worker. You can transfer to PayPal or other payment methods when you reach at least $9 plus fees.
PeoplePerHour (review) – Create "Hourlies", where you can advertise your skills and find people in need of your services. You pick what you want to charge.
Conclusion: Getting Your Start Working from Home
As you can see, there are virtually endless ways to make a living working from home, even if you have little to no prior work experience.
From the above listings, you can surely find something that works with you, your schedule, and the skills you do have (remember – even personal experience can count as work experience for the right jobs!).
Related Posts:
Earn Everything… nearly!

Join Ipsos iSay, one of the few Faithful and Honest survey panels and earn prizes, gift cards and donations. Stack your points and redeem them: Simple! No hidden fees and completely free!