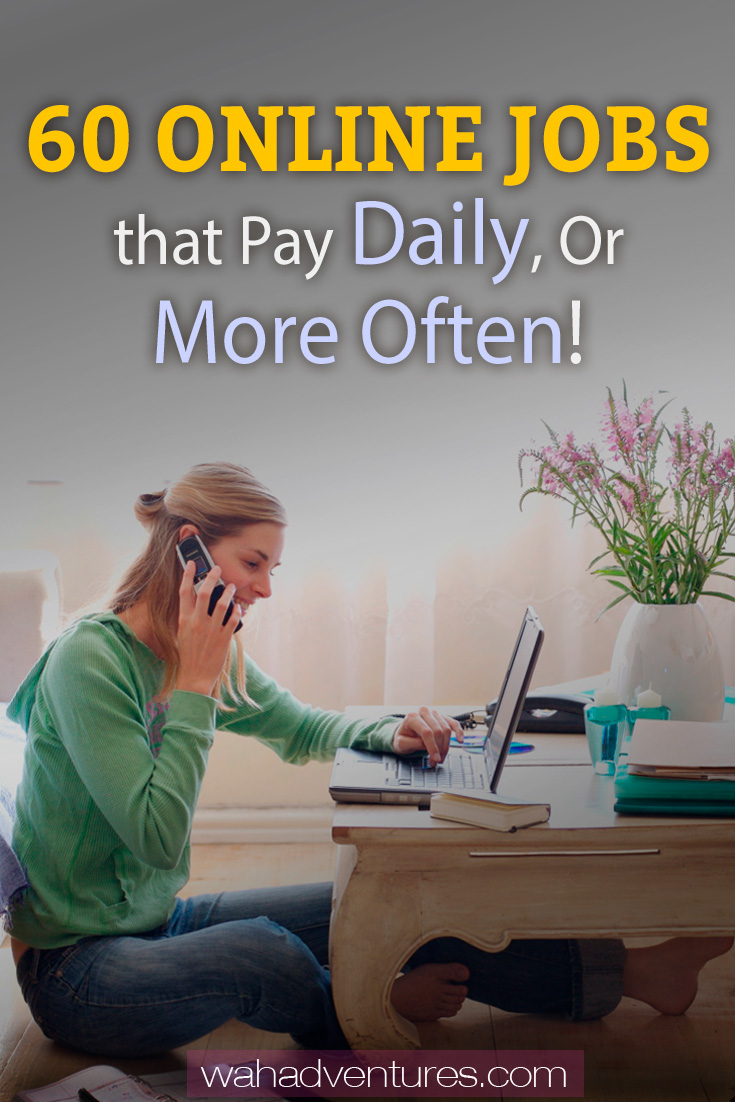 Some work at home jobs can be tough for those looking for a steady income.
Need Easy Extra $250+/Month For Free?
If you're struggling to find a real online job that pays more than once or twice per month, you've come to the right place.
This list of legit online jobs that pay weekly or daily will help you budget your income and give you more reliable pay.
Most of them even conveniently pay through PayPal!
Remember, though, that these may not necessarily be high paying online jobs.
Online jobs that pay weekly or daily are often small, easy jobs that you can complete on your own time and should be treated as side income.
Still, if you're consistent with them, you can earn some reliable, extra cash for spending money or help with bills.
List of Legitimate Online Jobs That Pay Daily or Weekly
Before signing up or applying for these safe weekly or same day pay jobs, get yourself a PayPal account, since that's how most of them will pay you.
You can sign up for free, and it's simple and convenient to use!
Data Entry Jobs
Amazon Mechanical Turk, or Amazon Mturk, is a micro-task website that pays you to complete small tasks, like searching for contact information from websites and recording them. Minimum payment is $1 and it pays weekly through direct deposit or gift card.
 Clickworker pays for small tasks, like research or product categorization. Those who are able to have a PayPal account or are part of SEPA (Single Euro Payment Area) with a valid bank account are allowed to join. Pays after 7 days of completed assignments.
OneSpace is a marketplace for several small jobs, like data entry, writing tasks, research, and more. It pays per task via PayPal after your tasks have been reviewed, which can take between 1 and 7 business days.
As a CrowdFlower Contributor, you can take part in small tasks when you have some extra time. As you do more tasks, you gain levels, which can also help you earn money faster. You can also earn more for completing a daily checklist of tasks. Payments are made via PayPal weekly.
At Sig Track, you'll be an independent contractor that helps process voter registrations and petitions. You'll need experience with spreadsheets and word processing and you must be a United States citizen. Sig Track pays with PayPal weekly and your earnings get split with accuracy verifiers.
Read more: Top Legitimate Companies That Offer Work from Home Data Entry Jobs
Mobile App Jobs
Easyshift is an app available for iOS or Android. It lets you get paid to complete small tasks around your location, like taking photos, checking prices, and finding promotions. Pays via PayPal, usually within 48 hours after a completed task. 
Field Agent is available for Android and iOS smartphones. You get paid to complete tasks in your area, like taking photos of specific products or promotions in a store. Most tasks pay between $3 and $12, and you're paid immediately with PayPal or Dwolla once you cash out. 
As a Gigwalker, you'll get paid to complete gigs in your area that you'll find via the iOS or Android app. Pays between $3 and $100 per gig and you'll get paid immediately with PayPal once your gig is approved. 
The Ibotta app is available for Android and iOS and lets you earn cash back rebates from things you purchase. Your rebate cash will be deposited within 48 hours into your Ibotta account, and you can then cash out with PayPal or Venmo once you reach $20. Payment usually takes about 24 hours. 
You can earn money back from your store purchases with the Mobisave app for iOS and Android. Payments are deposited immediately into your PayPal account after receiving your cash back, and take no longer than 24 hours to clear. 
You can become a customer call agent using the VOIQ app on your iOS or Android smartphone. Agents make calls to customers through client campaigns and you can pick the campaigns you'd like to work on. You must be at least 21 and have call center experience. Pay is 30 cents per talk minute with some campaigns having additional bonuses. Pays every Friday with PayPal.
Read more: Huge List of Smartphone Apps That Really Pay You Money!
Phone & Chat Jobs
 Customer service agents for Accolade Support will receive weekly pay, between $7.25 and $9.00 hourly. You can choose the hours you want to work. 
A Better Call is an online call center with virtual workers. You'll be a Business to Business Telemarketer or Lead Generation Specialist. Must have two years of relevant experience to be considered. You can earn $20 per hour or more and pay is weekly.
Want more money?

Easy Extra Cash! Join the famed Vindale Research site and earn rewards by doing nothing more than sharing your experience of using the internet. Guaranteed 100% free membership.


American Support hires inbound and outbound telesales agents and customer service agents to work from home. Pays weekly with direct deposit or Pay Card. 
Blue Zebra Appointment Setting has a fully virtual team. You'll be cold calling or prospecting to set appointments for clients. You can earn $15 to $25 per hour with weekly pay via direct deposit. 
Call Center QA hires Telephone Mystery Shoppers to make phone calls to companies and ask various questions. Pays $5 per call and after-call survey and pays with PayPal within 7 business days. 
City Twist pays appointment setters to work from home. Pays $50 per appointment and offers paid training. Pay is weekly.
Infocision hires at-home workers to make calls on behalf of non-profit organizations. You must have a separate landline and high-speed internet. Pay is weekly.
Language Line Interpreters work from home providing translation services for phone callers. Payments are made weekly with direct deposit or check.
 Maritz hires telephone mystery shoppers to act as virtual customers for clients. Pay is between $7.25 and $8 per hour with potential for wage increases after 30 days. Pays every Friday with direct deposit. 
Needlers provide to customers via live chat to help them find the perfect product they're looking for. Pay is reported to be about $10 per hour and your pay arrives every Monday through PayPal. 
NexusOp hires customer service support agents at least 18 years old to work from home. It offers a variety of flexible schedules and you can choose when you want to work. Compensation equals between $10 and $25 per hour and NexusOp pays weekly.
On Point at Home hires Advocacy Coordinators to make phone calls on behalf of clients for grassroots efforts. Should be able to commit to at least 25 hours per week, but flexible schedules are available. Pays weekly, but you have to remember to invoice OnPoint for the work you do. 
 Ver-A-Fast employs at-home customer service agents who can work at least 16 hours per week for various shifts. Pays weekly via checks. Pay is reported to be around $10 per hour plus some commissions. 
As an independent contractor for Virtual Office VA, you'll be making phone calls for clients. You can pick up as much work as you want with flexible schedules available. Pay begins at $9 per hour based on actual time worked.
Vocalabs survey administrators work when they can with very flexible schedules. You'll be tasked with calling customers after they have calls a client's customer service line and asking them questions about their experiences. Pays $2.50 per survey, and each one takes only about 5 minutes. Pays weekly with PayPal. 
You'll conduct political and consumer opinion surveys over the phone with Voter Consumer Research. Shifts are available each day of the week, with evening hours available for extra flexibility 
As a Telephone Data Collector for Westat, you can work between 15 and 40 hours per week providing survey and call center services over the phone. Starting pay is $8.25, but the pay is more if you're bilingual. Flexible hours are available and pay is increased for overnight shifts. Pays every Friday via check or direct deposit.
Read more: Top 22 Email & Online Chat Jobs from Home
Transcription Jobs
Work from home transcriptionists for Allegis Transcription typically transcribe interviews between people in the insurance industry. You can join at an entry level and choose the tasks you want to work on when you're available. Must complete 2 to 3-weeks training before starting. Pays weekly.
Babble Type hires transcriptionists, translators, and proofreaders who want a flexible schedule. Pays weekly via PayPal. 
Daily Transcription looks for independent contractors who can be available when needed for part-time or full-time work. Fill out the form to learn more information about becoming part of the team. Pay is weekly.
Go Transcript pays its transcribers up to 60 cents per audio minute, with top transcriptionists earning about $1200 per month. You work as much or as little as you want and can get paid weekly with PayPal.
QuickTate transcribers work on voicemail messages, letters, conference calls, and other audio files. You can choose your days and hours you want to work, as QuickTate operates 24/7. Must pass a $15 background check before you can begin work. Pays ¼ cent per word for general transcription and ½ cent per word for technical transcription. Pays every Monday with PayPal. 
 Transcriptionists with Rev earn between 40 and 65 cents per audio minute, captioners earn between 40 and 75 cents per video minute, and translators earn between 5 and 7 cents per word. Pays weekly via PayPal. 
Freelance transcriptionists for Scribie earn between $5 and $20 per transcribed audio hour. You'll also receive monthly bonuses of $5 per every 3 audio hours completed. You can pick and choose the files you'd like to work on and when you can work. You can withdraw from your account to PayPal at any time and payments are usually cleared within 1 business day.
Transcribe.com is another transcription service that hires at-home transcriptionists and document editors. Payments are made weekly via PayPal for the work you complete.
 Transcribe Me offers a flexible schedule for transcriptionists to work on their own time. Pays $20 per audio hour, but some projects can pay higher. You can request payment weekly via PayPal. 
Transcribe Team offers flexible work and pays between 45 and 65 cents per audio minute. Although its website says it pays monthly and weekly, monthly seems to be a typo. Actual workers report being paid every week on Mondays with PayPal.
At WeLocalize, you'll transcribe song lyrics and get paid weekly via PayPal for the songs you completed that week. You'll just need the iOS app and iTunes to get started, and you can earn $4 per song.
Read more: 30 General Transcription Jobs from Home, No Experience Required
Tutoring Jobs
 Cambly offers English language learning services. You can provide ELL students with learning opportunities via video or audio as a tutor. Pays 17 cents per minute of talk time and you receive your earnings every Monday via PayPal. 
 As a Chegg tutor, your pay starts at $20 per hour with opportunities for increase. You'll set your own hours based on the times you can, and want to, work. Pays weekly via PayPal. 
As a NiceTalk tutor, you'll provide English language learners with assistance learning the language by talking with them through the app. The work is flexible and you'll receive weekly payments with some opportunities for bonuses.
Studypool tutors answer questions posted by students in the marketplace. You can bid on the questions you want to answer, deliver your answers, and get paid. You can request your earnings once your answers are accepted. Pays via check or PayPal, and payments usually process within 3 business days.
Read more: 28 Best Places to Find ESL Teaching Jobs Online
Writing Jobs
Article Marketing Co. provides articles, web content, blogs, and more for people who need them. You can become a writer for the company, working remotely from home and getting paid when each article is completed.
You'll earn points as you write for BlogMutt and have articles accepted by clients in the marketplace. The higher level you reach, the more earnings you make. BlogMutt pays with PayPal every Monday, but you have to remember to invoice them for your earnings. 
Writers for BoostCTR create short advertisements to be displayed in search results and webpages. It is reported that pay only comes for accepted ads by the advertiser, so you may not get paid for ads that weren't approved. Pay is every Tuesday.
Boost Media seeks remote writers to write Pay-Per-Click (PPC) advertisements for clients. If your ad gets chosen by the client, you get paid. You can also get paid for instant ads, which give you $4 each. Pay is weekly with PayPal.
Cash4Essays pays you to write and sell academic essays on a variety of subjects. Once the company reviews them, you'll get an offer in 3 to 5 days. If you accept, you can instantly cash out your offer via PayPal.
Clearvoice pays writers to work with some of the top brands. Fill out a complete profile with your portfolio, if you have one, and get matched with writing jobs in your areas of expertise. Once your articles are accepted, you can get paid within 24 hours with PayPal.
Domainite allows independent contractors to write and edit articles. You can pick and choose the article assignments you want to work on during your own schedule. Pay is $1 per 100 words for writers and 25 cents per 100 words for editors. Pays weekly with PayPal. 
Hire Writers pays you to write articles assigned by clients. The better your writing quality, the higher your possible earnings, although the highest quality will give you $20 per article. You may also qualify for bonus payments by clients if they really like your work. Pays every Friday. 
iWriter provides quality levels for their writers. Top earners can earn as much as $40 or more for a 500 word Pays weekly with PayPal. 
You can choose the articles you want to write from the available assignments on the job board. Pays every Friday via PayPal or Payoneer and you can be eligible for bonuses for high quality.
Writers who sign up for Online Writing Jobs can earn up to $50 per article, but most average around $15. Pays every Friday via check or PayPal. Checks may take 5 business days to process. 
Postloop pays people to write posts on forums and message boards to keep them active and increase engagement. You can get paid once you make 10 posts through the Postloop portal. Average earnings are $0.07 per post, and you can withdraw your earnings once you have $5 in your account.
Textbroker writers work on a star rating system. The higher quality articles you write, the more money you can earn per article, with 5-star writers earning 5 cents per word. You can request your pay weekly once you've earned $10. Pays via PayPal, direct deposit, and several other methods. 
You can apply to become a writer for The Content Authority, writing articles for a variety of clients. Depending on your writing quality, you'll be placed on a tier, which will relate to the articles you qualify for and the payments you'll receive. As long as you have a $25 minimum in your account, you can get paid via PayPal every Monday.
The Forum Wheel is similar to Postloop in that you can make money by participating in online communities. You'll also need to wait until you have 10 posts to start getting paid. You can request a PayPal cashout once you reach the minimum earning amount.
Upwork itself doesn't provide online jobs. Instead, it's a marketplace to find them, and many freelance writers find work here. Your earnings for jobs will enter your account within a few days once work gets approved by the client, and you'll receive your pay within two business days once you cash out.
Zen Content, formerly Triple Curve, pays writers between $8 and $15 per article, although pay depends on the complexity of projects. Writers for Zen Content report weekly pay for most projects, depending on how long they take.
Read more: These 28 Freelance Online Writing Jobs are Perfect for Beginners
More Ways to Find Real Same Day Pay or Weekly Pay Work At Home Jobs
These websites are also good sources of extra side cash and pay weekly or daily.
They require you to do small tasks that don't pay much, but add up over time, and can give you some quick cash when you need it:
User Testing (review) lets you test websites or apps for $10 each. Pays via PayPal exactly 7 days after you take a test.
Humanatic lets you review phone calls for cash. Pays every Monday and Tuesday via PayPal.
Paid Viewpoint (review) has surveys available for cash. Pays via PayPal within 72 hours once you reach $15 in your account. You can sign up as long as you're able to have a PayPal account.
Qmee earns you cash rewards through shopping. You can request your earnings via PayPal and it shows up within a few minutes.
Slice the Pie (review) pays you for your honest opinions about music, clothing, and more. Pays via PayPal within 5 business days after you've reached $10 and your reviews have been accepted.
StartUpLift pays you $5 to provide your honest feedback on products and services. Your earnings are transferred to PayPal every Monday.
TryMyUI (review) gives you money to test out websites. You can earn $10 per test and get paid every Friday via PayPal.
User Feel (review) pays you $10 per website test, with top earners making up to $200 per month. Pays weekly via PayPal.
Related Posts:
Earn Everything… nearly!

Join e-Poll, one of the few faithful and honest survey panels and earn cash - paid via PayPal - gift cards for Amazon, Best Buy, iTunes, Starbucks, and Walmart, plus Retail e-vouchers.
The surveys are aimed at entertainment-related research, covering such things as personal TV watching habits, give feedback on new TV commercials or to review DVDs that are sent to your home.
For USA residents aged 13+ No hidden fees and completely free!