How to Make $100 Fast: 118 Legitimate Ways to Earn Money Now!
Updated on: by Amy Kennedy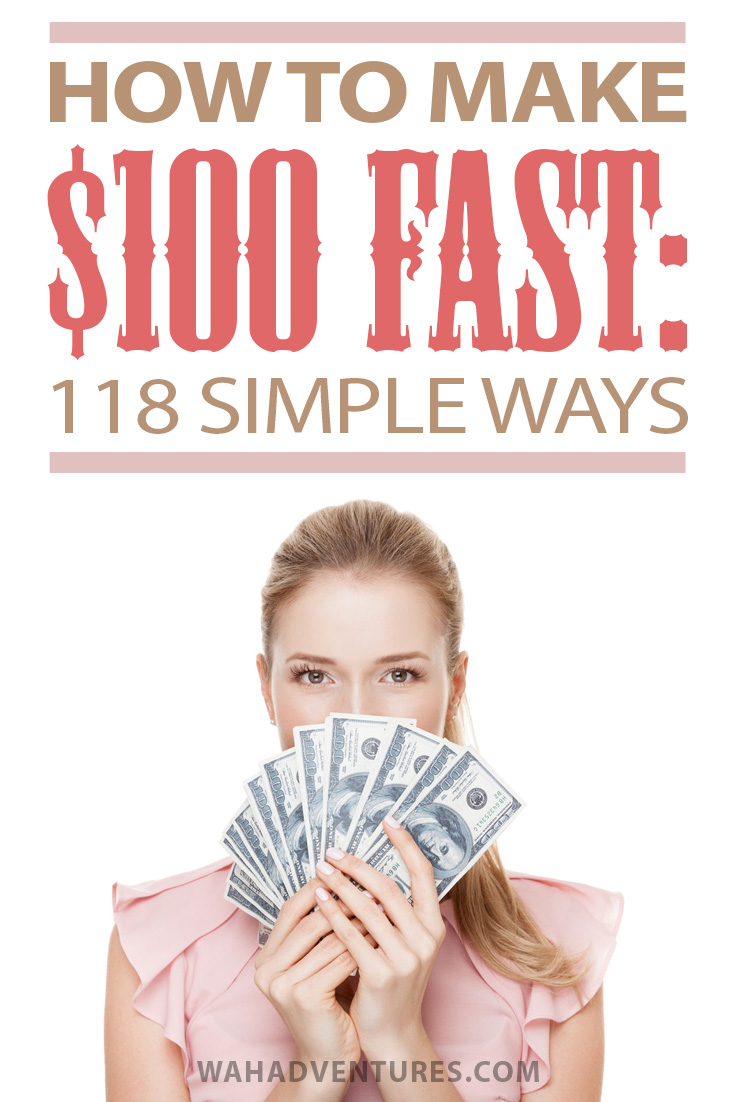 Everyone wants to know how to make a quick 100 bucks, right?
Whether you're late paying a bill or just need a little extra cash this week until your paycheck comes around, an extra $100 never hurts.
I've been there myself, but I've fortunately been very resourceful in finding new ways to make some quick cash when I need it.
Lucky for you, I'm sharing some of my knowledge right here in this post!
With so many easy ways to make a quick 100 dollars, you're sure to find something you can do today to score some extra cash.
My Top 3 Recommendations to Make $100 Fast:
Use Swagbucks
I talk about Swagbucks a lot.
There's a reason for that.
It works!
Swagbucks is my favorite way to earn money online.
If you stick with it, you can easily get gift cards or PayPal cash every week.
Here are a few of the ways you can earn money on Swagbucks:
Search the web
Play games
Shop and earn cash back
Complete cash offers
Take surveys
Check your inbox (paid e-mails)
Answer polls
Don't expect to get rich from Swagbucks in a week, because that won't happen.
But, it definitely is one of the easiest ways to earn extra cash in your spare time.
If you sign up here, you can get a $5 bonus!
Read More: Swagbucks Review: The #1 Site to Earn Real Rewards
Take Surveys Online
Do you love sharing your opinions?
You can get paid to provide feedback to companies through online surveys!
This is another non-get-rich-quick scheme, but a great filler for some extra cash when you have spare time.
Here are just a few of my favorites:

You can find more high-paying survey websites here, and some even have convenient mobile apps so you can take surveys whenever you have time!
Scan Your Groceries
Did you know you can get paid to scan the groceries you buy? Seriously!
Nielsen's National Consumer Panel will pay you to scan the things you buy using its smartphone app.
This is used for market research to find out what consumers are buying.
Then, you'll get a link to download the app.
Use it to scan your items and record some information about your shopping trip.
Then, get paid!
You can also try out these money-making apps that will pay you to scan receipts or shop:
How to Make $100 a Day with Talents and Hobbies
Got a talent or hobby that's not currently making you money?
Now's your time to start earning!
If you do something you love or are really good at, you can earn even more because the passion is there.
Bookkeeping
Not everyone has the math skills to be a bookkeeper, which is why they hire other people to do it for them.
If you already have had experience with Quickbooks or other bookkeeping tools, you can probably command a higher rate.
See if any friends, family, or local business owners might need your services and you can soon wind up with clients and get some money fast.
Brand Ambassador
If there's a local business you frequent or a product you love, see if the business is willing to pay you to be a brand ambassador.
You could promote the product or business at local events.
They'll likely be glad to pay you $100 for all the new business you bring them!
Buy and Sell
Find stuff for cheap at yard sales or flea markets that you can sell for a profit using eBay, Facebook groups, Craigslist, etc.
Here are 24 websites like Craigslist to sell on!
Coach or Referee
Some coaches and referees volunteer to help out, but most of them are paid, especially if they work for a league. If you have a lot of experience with a sport, see if they need any help for the upcoming season.
Comedy
Do you have a funny bone? If so, you may be able to join the ranks of funny YouTubers who make tons of money by creating and sharing funny videos.
Or, you can write funny greeting cards for greeting card companies!
Create Recipes
Bloggers love sharing recipes, but not all bloggers are great at putting together their own.
If you can whip up unique recipes for meals and desserts, write them out, snap some high-quality photos, and sell them to bloggers.
You can likely market this type of service on Fiverr or blogger Facebook groups.
Editing
As long as you have excellent grammar, punctuation, and spelling skills, you can become an editor. Although, a college degree can always help!
Here's a huge list of online proofreading and editing jobs.
Give Advice or Answer Questions
Do you love giving advice or sharing your expertise with others?
Get paid to answer questions or give advice online!
Most websites and apps don't require any type of degree or experience, just expert knowledge in certain areas.
Graphic Design
Check out Fiverr or 99Designs.com if you're a skilled graphic designer.
If your designs are up to par, you could earn money in just a couple of days by selling them!
You can also set up profiles on freelance marketplaces like Upwork or Freelancer.
Make Crafts
Crafting is a huge hobby, as you can tell by Pinterest.
Some bloggers who are big into crafting tutorials get most of their traffic (and make most of their money) from their crafting posts, especially if they hit it big on Pinterest.
If you have a blog, set up affiliate links through Amazon Associates to the products you use in your tutorials.
Alternatively, you can simply sell your crafts online.
Make or Edit Videos
Many don't realize it, but YouTube is a great way to earn money if you get a lot of subscribers and views.
You can monetize your channel with ads and earn a percentage of revenue from your video views.
You can also start a gig on Fiverr if you're skilled at creating or editing videos for others.
Mechanic Work
There's no need to get a job at a repair shop.
You can set up a side gig for yourself repairing cars or completing small maintenance tasks on them in your spare time.
Car maintenance and repairs pay well, and you can get your money that day!
Organize Offices
Charge $100 for an office overhaul.
Seek out businesses in your area that could use your help re-organizing office space to be more functional and productive.
Organize Tax Records
If you have excellent knowledge of taxes for individuals and businesses, you could seek those in need of your help in your local area.
Many people would gladly hand you over $100 (or more!) to organize and/or file their taxes.
Photography
Those with photography skills can easily earn at least $100 to photograph an event, like a birthday party, graduation, concert, or wedding.
Seek out help from your friends and family to spread the word!
Plan Events
Offer to plan events for your friends, family, and their friends and family.
Sometimes, it's worth it to pay someone $100 to take care of all the small details for an anniversary party or another big event.
Play Games
Get your game on!
Gamers can actually make money while having fun playing the games they love.
Some players of Second Life make thousands of dollars by selling virtual property!
You can play games on Swagbucks to earn cash, but you can also try other sites on this list of money-making gaming sites!
Process Medical Claims
You may have someone in your family with several medical bills for various health issues.
If so, and you have experience with the claims process for insurance, see if you can help them out.
$100 is a fair price to process some claims, and is likely cheaper than what they'd pay someone else to do it.
At least it's someone they can trust!
Repair/Set Up Computers
Computer repair shops have super high rates for people who need their computers fixed.
Depending on how much work needs to be done, you could charge $100 or more for repairs and still stay on the competitive side for pricing.
Advertise your talents on Facebook, and you may soon find people in need of your services for repairs or setting up a new computer.
Research
You might find people on Craigslist or freelance websites who need researchers to help them out with the information they need for academic papers.
Depending on how much research is needed, you could get $100 for a couple of hours of work.
Just be careful that you're not getting roped into writing the paper, which will run you into a big ethical dilemma.
Review Books
If you love books, why not get paid to review them?
There are several sites that pay book reviewers to provide their honest thoughts about books they read.
Social Media Management
Almost everyone nowadays knows how to use social media, but not everyone has the time to build or manage their accounts as they need for their business.
If you have social media skills, make them work for you by managing social media accounts.
Create new posts and get people engaged while setting an hourly or per-project fee.
Who knows – your first client could gladly pay $100 for a couple of hours of work!
Stage Houses
Home staging is super popular now since it can significantly increase the quickness and likelihood that a home sells.
Those who know interior design can stage houses for others in the neighborhood.
You could also ask around local real estate offices to see if they might need your services.
Teach Computer Classes
See if you can set up a class in a local school or public building to teach computer skills to others.
You could even set up one-on-one tutoring sessions by making house visits.
A couple of one-on-one classes can easily earn you $100, and you could make hundreds from a class with multiple people.
Teach English
GoFLUENT lets you tutor English language learners online!
You'll need to have experience and a college degree, but it's a good way to make money when you're able to work.
You can also use your smartphone to talk to English language learners with NiceTalk and Palfish.
Teach Music
Ask local schools if you can hand out a flyer to teach instrument classes to local kids.
You might be able to set up a class after school or make house calls to work with kids individually.
A couple of short classes can quickly earn you $100.
Tutor
When you have time to spare, tutor kids online.
Some websites don't even require you to have teaching experience or a college degree!
Best of all, most tutoring websites are fairly flexible so you can work when you're able.
You can earn $100 after just a few hours of tutoring.
Alternatively, ask your friends or family if they know of anyone with kids who need a tutor.
Website Set Up
Many people would gladly pay someone to set up a website for $100, especially since most professional services charge upwards of $1,000.
Of course, don't see yourself short. If the job is going to take a few hours, charge what you feel it's worth.
But, a basic set up can easily earn you a quick $100.
Write
A lot of blogs will pay between $50 and $100 for articles written by others!
You'll need great writing skills, but if you have plenty of blogging experience, go for it!
You can also search for writing gigs on freelance marketplaces, like Guru, Upwork, and PeoplePerHour.
Open a Checking Account
Opening a new checking or savings account can earn you free money.
All you have to do is sign up and meet the minimum requirements, which usually includes setting up direct deposit or depositing some cash.
Most promotions are at least $100, and some go as high as $500!
Here are a few banks that almost always have promotions available, plus their usual promotion amounts:
Wells Fargo ($300-$500)
Chase ($150-$300)
Bank of America ($100-$500)
TD Bank ($150-$200)
Huntington ($150-$200)
Open a Credit Card
This one will take you a little longer than a couple of days to work, so do some other things while you wait.
But, after what's usually a 3-month period, you can earn a bonus for opening a new credit card! $100 is usually the lowest bonus amount, and some cards will pay up to $1,000 if you meet all the requirements.
Here are a few cards to check out that usually offer some sort of bonus for new account holders:
Chase Freedom ($150)
Blue Cash Preferred Card from American Express ($150)
Wells Fargo Cash Wise Visa ($200)
Sell Stuff
If you have things in your home you no longer use, get them off your hands for a price.
The internet has made it especially easy to sell your stuff quickly, and there's always ways to sell locally.
Amazon
I've sold things on Amazon, and it's a fairly straightforward process.
New items tend to do the best on this site, but if you have things in excellent condition, you can sell those too.
Books, electronics, and video games seem to do well, even if they're used.
Just make sure you're accurate with your description!
Consignment Shops
You can use local or online consignment shops to buy some of your stuff.
They tend to love things like clothing, furniture, decor, and vintage items.
Swap and ThredUp are online consignment shops perfect for selling new and gently used clothing.
I earn money from Swap every two weeks just from selling used kids' clothes!
eBay
You can make a living selling on eBay if you want!
But, it's also great for some side income by selling a few things here and there.
Unique items do great on eBay, so if you have rare stuff, like collectibles, that you want to part with, you can easily earn $100 quickly!
Electronics
Gazelle is the best place to go to sell smartphones, tablets, computers, and other electronics.
You can list your stuff and the website will give you an estimate of its trade-in or selling value.
You can ship your item(s) to Gazelle for free as long as they're at least $1, and get paid once it's been inspected.
Flea Markets
See if there are any flea markets in your area with space available.
It's not usually expensive to set up a table, and you can put whatever you want out to sell.
You'll get exposed to more customers than you normally would at a yard sale, which means more eyes on your stuff.
Furniture
Sell used furniture online or locally!
Selling locally will likely get you some money faster, but if you're willing to wait a little extra time, you can sometimes sell for higher prices using used furniture websites.
Gift Cards
If you have gift cards you'll never use, sell them!
Gift Card Granny and CardPool are among my favorites for selling gift cards.
If you have gift cards from Amazon you need to get rid of fast, check out these ways to sell or trade Amazon gift cards.
Handmade Items
Do you knit blankets, sew clothing, or build furniture?
Then you might be able to earn some cash on the side by selling your handmade stuff online.
These websites let you sell handmade items and crafts – and most of them are free to open up shop or list your items!
Instruments
Locate music shops in your area that sell instruments.
Many of them will buy instruments in great condition to resell for a profit.
Depending on the instrument and how well you take care of it, you could walk out with $100!
Jewelry
Try selling your jewelry at local jewelry shops.
Pawn shops also may give you a good price, depending on how rare and valuable your jewelry is.
You can always try a gold-buying dealer like WeBuyGold, but they usually cut your price drastically so they can make the biggest profit.
Junk
Instead of setting up a yard sale, which can be a lengthy process in itself, list some of your stuff on Craigslist or other websites like Craigslist.
People search Craigslist all the time, so you may even find a buyer for your stuff within hours after you list it.
Pawn Shop
I wouldn't recommend pawning stuff unless you're in a pinch, but it can work well if you need cash fast.
Pawn shops will give you the option of pawning an item, which will give you some of its value until you can pay to get it back.
Or, they'll buy your item outright if you don't want it back.
The more your item is worth, the more you'll get from a pawn shop.
Just remember, it won't be close to full value because the shop needs to make a profit.
Photos
If you have photography skills, you can sell high-quality stock photos online!
Use your phone to upload photos to Foap, an app that others can use to buy your photos.
You get 50% of the profits!
You can also sell on Shutterstock and iStockPhoto.
This is a great way to earn some passive income just by uploading your best photos.
Return Gifts
Still have gifts from Christmas lying around that you'll probably never use?
Take them back to their original stores to see if you can get cash back.
Some stores have generous return policies, like Walmart, which often doesn't even require a receipt.
Just make sure you have the original packaging, because a lot of stores won't return anything without it.
Scrap Metal
iScrap App can help you locate scrap yards that you can sell your scrap metal to.
If you don't have a lot of metal, check with your neighbors and offer to scrap it for them for a small fee.
They'll probably be happy to get it off their hands, and you'll earn the fee plus the cost of the metals!
Your Ex's Stuff
This idea may not be for everyone, but if you've made an honest attempt at returning any of your ex's stuff that still may be at your house, it's fair game.
Make at least a couple of attempts to let your ex-know that you'll be getting rid of stuff if it's not claimed within a specific timeframe.
After that, do with it what you will!
Micro-tasking
There's nothing better than making money from super-short tasks, right?
That's the beauty of micro-tasking.
Each gig pays little, but they're quick enough that your earnings can add up quickly.
Agent Anything
Agent Anything is a marketplace that matches businesses with people they can outsource some small jobs to.
A business or individual posts 'Missions', describe the work involved, and lists the rate.
You can bid on the jobs you'd like to do. Most are at least $25, so you can earn $100 quickly!
Amazon mTurk
Amazon Mechanical Turk is one of the most popular ways to micro-task. In fact, I use it myself!
Each short task pays a few cents to a few dollars, and should only take a minute or so of your time.
Most of it is data entry, writing, and research work.
BidOnMyGig
BidOnMyGig is similar to Agent Anything.
A person posts a gig that needs to be completed, and you'll bid on the gig.
It has categories for finance, computer, legal gigs, and more.
Cloud Factory
Cloud Factory outsources its clients' smaller tasks to micro-taskers.
Most of the work includes transcription, data entry, and categorizing data.
Field Agent
Field Agent is an app that lets you find tasks in your local area.
Most tasks are mystery shop tasks, like checking out a promotion at a specific store, taking photos of shelves, etc.
Field Agent pays quickly with PayPal, and you can earn between $3 and $12 per task.
Fiverr
Create your own small gigs on Fiverr!
The marketplace matches you up with people in need of your services, like writing, graphic design, or video creation.
You can start your gigs at $5 and go up from there with customizable packages.
GigWalk
GigWalk is an app that matches you with small tasks in your area.
You may need to take photos of a store display, perform a mystery shop, check prices, or attend a promotional event.
Gigs pay anywhere from $3 to $100 and the app pays with PayPal, so you can earn money fast!
Microworkers
Microworkers has tons of different micro jobs available, from research to transcription.
When you complete a task, a client can provide feedback, which can help get you more work.
Microworkers pays with PayPal and you can request your earnings after you have at least $9 plus fees in your account.
MobileWorks
MobileWorks offers jobs similar to what a virtual assistant would do, like data entry and research. You can check its jobs page to see what it currently has available.
PleaseBringMe
PleaseBringMe connects travelers with people who need things from other places.
If you're traveling, you can check out if anyone in your destination area needs anything from where you are.
If you're going there anyway, you might as well make some money from the trip!
PostMates
PostMates lets you earn money delivering things to people.
You could pick up food from a restaurant and deliver it to a home or office, or pick up someone's coffee in the morning.
Work on your own schedule, whenever it's most convenient for you!
TaskRabbit
TaskRabbit is both a website and app that matched you with gigs in your area.
It's a good place to find people who need handy work, help with moving, yard work, and other help around the house.
You can choose your own rates!
WeGoLook
As a 'Looker' for WeGoLook, you'll be tasked by individuals and businesses who need your help with small tasks.
You may need to go check out a car for someone before they buy it or take photos of a home someone's interested in buying.
Most tasks are for quality assurance purposes.
You act as the eyes for people who might be too far away to do it themselves.
Zaarly
Zaarly is similar to other micro-task apps.
Find side jobs in your area from people who need some help with handy work, house cleaning, and more.
Most payments get processed within 24 hours after you complete a task.
Side Hustles
If you're looking for some things to do for quick cash while you're not at work, these side hustles are the perfect opportunity!
Most don't even require any special skills.
Advertise Your Car
If you don't mind getting your car wrapped from bumper to bumper in advertisements, then head to Carvertise and sign up.
You just need a car that's 2005 or newer, and you're required to drive at least 800 miles per month.
You can make between $300 to $650 per campaign!
FreeCarMedia.com is another one you can try.
Babysit
Most people will pay a babysitter at least $5 per child, per hour. So, if you have two or three kids to babysit for even 10 hours per week, you can make between $100 and $150 easily.
Bartend
Know your drinks?
See if your friends or family can use your help tending the bar at an upcoming event or party.
A couple of hours could easily get you $100.
Carpool Driver
Drive your co-workers to work with you and ask for a small fee to cover costs.
You're going that way anyway, so it's a good way to earn some money.
Clean Carpets
Rent a machine – they're usually budget-friendly to rent – and ask your neighbors or friends if anyone needs a thorough carpet cleaning.
You could earn $100 after just a couple of cleanings on a weekend.
Clean Cars
Set out a sign on your driveway and advertise a weekend of car cleaning in the newspaper.
Set a convenient price for a wash, and you're likely to get quite a few bites from people in your area.
Clean Gutters
You may be able to earn $100 from one gutter-cleaning job, since it can be a more involved process than other cleaning jobs.
Put an ad in the paper or advertise your services on Facebook.
Clean Houses
Do you notice a pattern here?
There's always stuff to clean for a price!
Create a profile on Care.com and other people who need their houses cleaned can find you and hire you for their jobs!
You can accept only the jobs you have time for and are within your desired rate.
You'll likely earn at least $100 in just one or two jobs.
Decorate for Holidays
People love having their homes festive for the holidays, but not everyone loves doing all the work.
That's where you can come in.
If you're great at hanging lights and setting up other holiday decorations, see if your neighbors want you to take over the job!
Focus Groups
Check out FocusGroup.com to find paid focus groups in your area or online.
They're like lengthy surveys that help marketers understand consumers better.
Most focus groups will pay $75 to $150 each for a few hours of your time.
Gym Instructor
Check your local YMCA or community center to see if they're in need of a trainer or gym class instructor.
You may be able to set a schedule that works for you for a couple of classes each week, and you can earn much more than $100 from a class.
House Sit
Set up a profile on HouseSitter.com and other people in your area can hire you to take care of their houses, pets, or yards while they're away.
Market Research
Concepts Consumer Research pays you to test and provide your opinions on products and business ideas.
You can earn anywhere from $20 to $1000 per study!
Mock Jury Participant
You can get paid to be an online mock jury participant with eJury.com.
You'll help provide insight to a prosecutor or defense attorney in their cases going to trial.
You need to be at least 18 and live in the United States.
Most cases pay between $5 and $10, but most only take about 35 minutes.
Move Furniture
Know anyone who needs their furniture rearranged or moved to another home?
Offer to help them! A day of moving can easily earn you $100.
Mow Lawns
Mow a few lawns in your neighborhood to earn $100.
There's a reason people still knock on doors to find people who need their lawns mowed – it works! It still seems to be one of the most popular side hustles.
Mystery Shop
Mystery shopping is one of the most popular ways to earn money from your home and it can be done in-store or by phone.
You'll act as a customer visiting or calling a specific store and then take a short survey based on your experience.
Businesses use this feedback to help improve their customer service and overall experiences.
Here's some telephone mystery shopping companies to try.
IntelliShop and Market Force are good sources for in-store mystery shops.
Paint
Painting is one of the most despised jobs for homeowners.
You may not like it either, but it can definitely earn you $100 quickly.
Offer to paint rooms, trim, or fences for the neighbors.
Panhandle
Okay, I'm not sure that I'd recommend actual panhandling.
But, what about doing it online through GoFundMe?
If you have a specific reason you need $100 or more that you think your friends and family may get behind, it's worth a shot.
Pet Sit
Care for the pets in your neighborhood when their owners are away.
PetSitter.com matches you with people looking for this service.
Play Music
You may be able to book short music-playing gigs at local venues in your area for $100.
Think: small bars, dance halls, or local community events.
Product Reviews
If you blog, you may be able to get paid to review products, either through a direct payment or affiliate links.
If you're offering spots for product reviews, the quickest way to get $100 is to charge a fee for your writing time in addition to the free product.
Most bloggers advise charging at least $50 to write up the review.
You can also check out this list of paid blogging networks to get matched with companies who pay bloggers for sponsored posts.
Referrals
So many websites now offer money for referrals (like Swagbucks – you get $5 per referral!).
So, if you have a large network, you could earn money quickly just by referring your friends.
You may want to also ask local businesses if they have any referral programs you can join.
Rideshare Driving
Uber is huge now because people are making a living simply by driving their cars on their own schedule.
Sounds like a good deal, right?
Set up sometimes on the weekend to be available for ridesharing and you can quickly drive your way to $100.
Set Up Pools
Swimming pools can be complicated to set up, and most people would gladly hand over $100 for you to do it for them if you know how.
Ask your neighbors!
Shovel Snow
Not pool season?
Then how about shoveling snow?
Your neighbors, especially elderly ones, may be glad to pay you a few bucks to shovel their stairs, driveways, and walkways.
Spring Cleaning
Spring time brings in all the pretty flowers, but it also is the time for some not-so-fun cleaning projects.
Maybe you can take over some of the cleaning for your friends and family.
Clean windows, organize basements, wash home exteriors, etc. for some weekend projects that can quickly earn you $100.
Temp Jobs
Try searching for a seasonal or temporary job that will give you a few extra hours per week. Several places, like restaurants and retail shops, pick up a lot of business over the summer and look for extra employees.
You could also try amusement parks or lifeguarding over the summer, or gift wrapping or snow-blowing over the winter.
Test Websites
While you're home from work, you're likely browsing the web at least some of the time, right?
Why not get paid to do that?
Several companies pay you to test websites.
You'll record your screen and speak your thoughts into your microphone as you browse specific websites.
Your thoughts help website owners figure out where they need to improve.
Most tests take no longer than 20 minutes and pay about $10 to $15 each!
Here's a list of website testing companies that pay.
Tour Guide
If you've lived in your town for a long time, you probably know a lot about it.
You might be able to become a tour guide through your local tourism center, or do it on your own.
You can set yourself up on ToursByLocals and get matched with people visiting your area.
Medical Stuff
Sell your body – in a good way!
Here's a few ways you can get paid to help out others using your own health.
Clinical Trials
Search for clinical trials to join.
Granted, most of these won't get you $100 fast, but some do pay a portion of your fee upfront, so it's something to consider as you're getting money in other ways.
Donate Plasma
The process takes up to two hours, but you can easily earn $100 per week by donating twice a week as long as you pass the medical screenings each time.
Medical Studies
Some research facilities and universities pay people to participate in medical or psychological studies.
For example, here's a list of the current NYU research studies you can join.
Check your local university's website to find studies near you.
Rent Your Space
If you have extra space in your home, you can make some money off of it quickly!
Driveway
You can advertise your driveway for rent while your home on the weekends.
Put an ad in the paper, and you may wind up with people who want to rent your space for small community events, yard sales, and more.
Garage
You can rent your garage space to people who need to work on cars or even house their car if you don't use the space.
You could easily charge $100 a month for this type of storage!
Home
If you're going to be away on vacation, you can rent your home on AirBnB.
Depending on your home's value and location, you can easily earn over $100 for a day or two of rented space.
Room
Rent a room in your home for office space to people who work remotely!
Try HourlySpaces, which lets you rent a room – or your whole home – for an hourly fee.
You can even make money doing this while you're at work!
Storage
Do you have a storage shed, basement, or a spare room that hardly gets touched in your home?
Advertise your space for a fee in the newspaper and you could end up with an easy $100 per week.
Get Extra Cash from Your Job
You may be overlooking the easiest ways to earn some extra cash – from your current job!
Customer Referral
See if your job has a customer referral program.
If so, you can earn bonus cash by referring people to your place of business.
Set aside a couple of hours on your days off to pass around flyers or businesses – and make sure people know who referred them!
Employee Referral
During hiring season, see if your boss is willing to create an employee referral system to provide bonuses to whoever refers the most employees.
Advertise the job on your Facebook page and in local job-hunting Facebook groups and watch the applications roll in.
Get the Jobs No One Wants
Your boss may reward you for taking on the jobs that no one else seems to want, like cleaning or maintenance tasks.
Always show your willingness to help out, and you're more likely to get rewarded!
Overtime
Volunteer to take on overtime hours that others don't want.
Sure, it's more time at work.
But, it also pays a lot better than your regular hours and you can rack up an extra $100 fast.
Suggest Something Awesome
Take advantage of the suggestion box at work.
Come up with some ideas for new business or a fun project that your boss simply can't refuse.
And, make your presence known at staff meetings.
Speak up and get your ideas out there!
The more your boss sees your willingness to participate and make a difference in the company, the likelier he or she is to see you as a candidate for a hefty bonus.
Change Your Habits
Changing your spending habits is never a fun subject, but it's super important in helping you save have some extra cash.
These little tweaks can save you a lot of money every month.
Budget Your Meals
One of the things I do to save hundreds (seriously!) in groceries every month is create a weekly meal plan that's budget-friendly.
I scour blogs and Pinterest for cost-efficient meals that don't use a ton of ingredients.
I create a meal plan for each day for the next two weeks.
Then, I head to a bargain grocery store, like Aldi's, and buy only what's on my list to make the meals.
I spend about half of what my friends with similar family sizes do on groceries every month using this tactic.
The key is to have a specific budget in mind for the two-week period.
Keep track of it as you're planning your meals and shopping so you don't go a penny over.
Cut Cable
Cable is such a huge expense that's not even necessary anymore!
There are way cheaper options, like Netflix, Hulu, and SlingTV, which will likely give you most of the shows you love to watch but can save you $100 per month.
I currently subscribe to all three and have cut my TV bill by $90.
And, I'm not missing out on a single show I used to watch with my cable service.
Get Healthy
Do you smoke?
Have a habit of drinking wine every night?
See what you can do about at least cutting back some.
You may be surprised how much you can save by cutting back one pack of cigarettes or a bottle of wine each week.
Make Coffee at Home
So many people spend money on coffee and energy drinks to get their morning boost before heading to work.
On average, if you make a daily stop at Starbucks, you spend about $63 per month, or $766 per year!
If you make one cup of coffee at home every day, on average, you'll only spend $2.40 per month, or just under $30 per year.
Sounds better, right?
Optimize Your Power
Many don't realize how much they can save on their energy bills every month just by making small tweaks.
Here are a few tricks that can save you $100 on gas or electric over a month or two:
Keep air vents clean
Do laundry after 8pm, when some power companies discount power costs
Wash your laundry in cold water and dry in low heat
Turn off power strips when electronics aren't in use
Use ceiling fans instead of cranking up the air conditioning
Set the A/C between 75 and 78 degrees
Close curtains during the sunniest parts of the day in the summer
Keep your heat below 70 degrees, which can save about 3% on your bill for every degree
Place weather stripping around doors and windows to keep cold air from coming in and heat from escaping
Bonus! Critical Strategies to Help you Make and Save Money
1. Establish a Well-Defined Budget
Creating a comprehensive budget allows you to track your income and expenses effectively.
By categorizing your spending and setting limits, you can manage your money more efficiently and identify areas where you can cut back and save.
2. Embrace Frugal Living
Adopting a frugal lifestyle can significantly impact your savings.
Emphasize mindful spending, seek out discounts, compare prices, and opt for cost-effective alternatives whenever possible.
This approach helps you save money without sacrificing quality or enjoyment.
3. Generate Multiple Streams of Income
Diversifying your income is a smart approach to increase your earning potential.
Explore different avenues such as taking on a side job or gig, starting a small business, or investing in income-generating assets.
Multiple income streams provide financial stability and growth opportunities.
4. Prioritize Saving
Make saving a priority by allocating a portion of your income to savings as soon as you receive it.
Consider setting up automatic transfers to a dedicated savings account to ensure consistent savings and minimize the temptation to spend.
5. Invest Wisely
Investing your money wisely can accelerate wealth accumulation.
Research different investment options such as stocks, bonds, real estate, or mutual funds, and choose those that align with your financial goals.
Investing allows your money to grow over time through compounding returns.
6. Minimize and Manage Debt
Effectively managing debt is crucial for financial well-being.
Prioritize paying off high-interest debts, develop a debt repayment plan, and consider options like consolidation or refinancing to lower interest rates and simplify payments.
By minimizing debt, you can save on interest charges and improve your financial situation.
7. Continuously Educate Yourself
Investing in your knowledge and skills can lead to higher earning potential.
Stay updated on industry trends, seek professional development opportunities, or pursue further education to expand your career prospects.
Continuous learning enhances your skills and opens doors to better-paying job opportunities.
What have you tried to earn a quick $100? Please share your ideas with us in a comment below!
Related Posts: