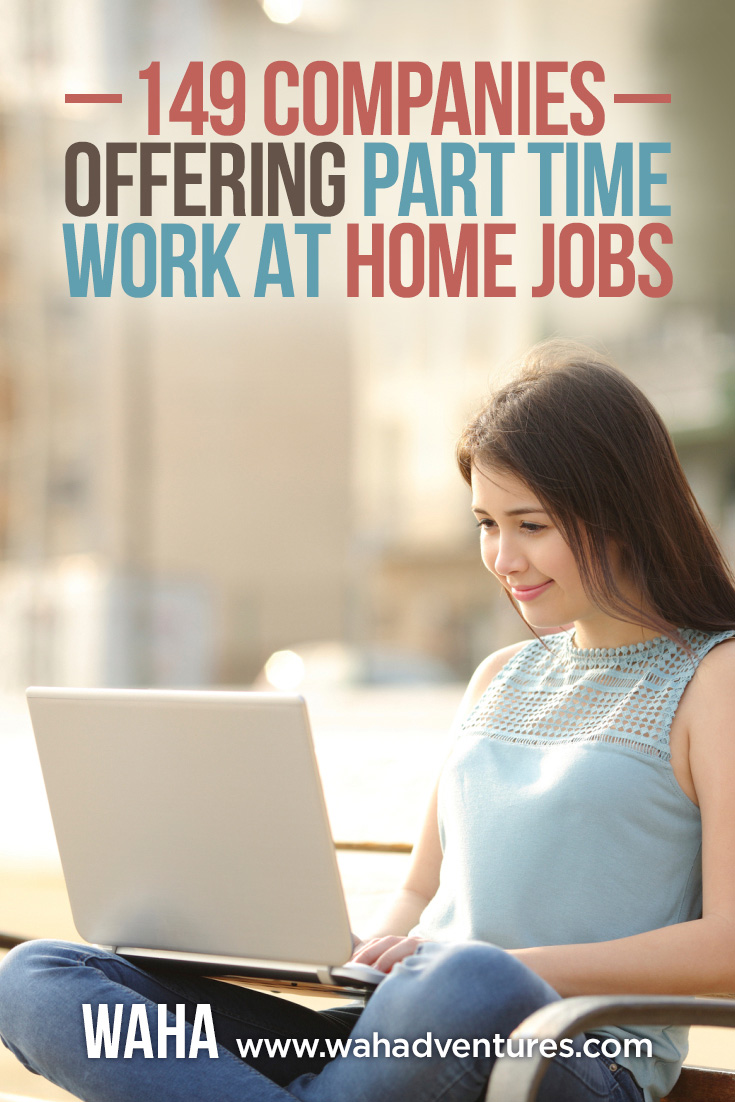 Are you looking for a work from home job for extra income but can't commit to full-time hours?
Fortunately, there are tons of companies that hire for part time work from home positions!
These are perfect for teens, students, stay-at-home-moms, disabled individuals, or a second income to earn some extra money on your own time.
The majority of these jobs can be done completely online, but a few require some local travel.
Where Can I Find Part Time Work from Home Jobs?
First, check the websites of your favorite companies!
Many people don't think to do this, but you'll be surprised what you find on the careers pages of company websites.
More and more companies are offering remote positions as their businesses become more internet-dependent.
FlexJobs is also an excellent place to find part-time work from home jobs, where every single job is screened for legitimacy.
For just under $15 per month or $50 per year, you can subscribe to FlexJobs for access to all its listings, including full-time, part-time, contract, seasonal positions, and more.
Read more: Flexjobs Comprehensive Review: My Personal Experience
Use the Advanced Job Search to help you narrow down your search to part-time, telecommuting jobs.
The Big List of Part Time Online Jobs & Work from Home Jobs
This list of part time online jobs and work from home jobs is divided into categories for easy browsing.
The listings within each category contain links to each company's website.
Click the links to visit the website and check out its career page.
Some of these listings don't advertise the work from home positions on their websites, but instead on FlexJobs or other job listing sites.
If so, this will be indicated in the description for the company.
Also, keep in mind that these companies may not be actively recruiting at this time.
These are listings of businesses that do offer part time work from home jobs, so keep checking back on the companies' websites if the job you're looking for isn't currently available.
Accounting & Bookkeeping
The need for virtual accountants and bookkeepers is on the rise for many established businesses and startups.
To become a virtual accountant or bookkeeper, you typically need to have at least one year of professional experience and many companies require a CPA.
Chat & E-mail Support
Live chat and e-mail support jobs are perfect for those who have noisy backgrounds in their home office, like moms with young children or people with pets.
These companies hire people to perform customer support and other tasks via live chat or e-mail.
Customer Service
If you have a knack for dealing with customers in a friendly and positive way and enjoy interacting with others, an online customer service job might be perfect for you.
Some of these listings also offer over-the-phone sales jobs.
Data Entry
Excellent typists and those with experience with word processing programs can find the perfect work from home opportunities with data entry.
Most places don't pay much, but these are excellent for some side income.
– Amazon's Mechanical Turk website pays you for micro-tasks, like typing data found in photos or locating contact information on websites.
Capital Typing – Capital Typing hires data entry specialists for a wide range of global clients. You will need to send them an e-mail to inquire about the employment process.
Clickworker (review)– Clickworker offers a lot of flexibility for data entry specialists to work from home on their own schedules. You will be writing, researching, and collecting data.
DionData Solutions (review) – DionData Solutions looks for part-time independent contractors to provide data entry tasks. Must type at least 60 WPM.
Fiverr (review)– You can create your own data entry gigs on Fiverr, a marketplace for $5 and up jobs. You set your rates and types of tasks you'd like to perform, and interested clients will order from you.
Great American Opportunities – Great American Opportunities is a fundraising company that lets you work from home for its sales opportunity. You'll help make sales and enter sale data into the system.
Microworkers – After you sign up for a Microworkers account, you can browse its tasks and choose what you want to do. You need to maintain a good Success Rate to qualify for the best jobs.
OneSpace – OneSpace offers crowdsourcing tasks to its workers, who are freelance, at-home contractors. You can use your experiences to build your freelance portfolio. You can get paid daily from your approved work.
SigTrack – Process voter registrations by entering their data into the system through SigTrack. You'll have to do a quick Skype interview so SigTrack can prove your identity, and you'll need PayPal for payments.
TDEC (review) – The Data Entry Company hires experienced data entry specialists to perform work for its clients from home. To apply, you'll need to e-mail your resume to the address listed on its website.
Virtual Bee – Virtual Bee by Lionbridge is a virtual team of workers from all over the world. After applying, you'll be put on a waiting list until Virtual Bee needs more workers. Pay rate is 30 cents for every 1,000 characters you type.
Freelance Writing
Freelance writers can make some excellent money if they write for several clients and have exceptional command of their native languages.
Most websites pay per word or per article, so you can determine how much you want to make by how much you write.
Medical Coding & Transcription
You must have professional healthcare experience to become a medical coder or transcriptionist.
Conifer Health – Medical coders for Conifer Health can enjoy competitive benefits, tuition reimbursement, and continuing education.
iMedX – Medical coders and transcriptionists can join the iMedX team as salaried employees or independent contractors.
Precyse – Precyse offers full-time and part-time remote medical coding positions. Must have at least 2 years of experience in medical coding.
Moderating
Online moderators help monitor online forums or social media channels and engage those within the community. Must have good internet knowledge and experience with social media networks.
Search Engine Evaluating
Search engine evaluating can make you a decent part-time income through evaluating advertisements and search results across the web. Consider signing up for one or two companies to maximize your earnings, if you have the time.
Read more: Comparing Top 5 Search Engine Evaluator Jobs That Pay $12 – $15 Per Hour
Teaching & Tutoring
Current or former teachers can find excellent part-time positions scoring tests or tutoring from home.
You usually need a webcam and video software so you can perform lessons via video conference.
Read more: 28 Best Places to Find ESL Teaching Jobs Online
Telephone Mystery Shopping & Research
A great way to earn some side income is through telephone mystery shopping.
You'll be making phone calls and answering questions based on the phone call for your clients.
Pay usually depends on how long it takes you to complete tasks.
Transcription
Transcription does not come easily for everyone, but those who have the skills to be fast, precise transcriptionists can make an excellent part-time income.
You may want to sign up for a couple of companies to maximize your transcription earnings.
Virtual Assisting
If you have excellent general administration skills or call center experience, virtual assisting can be a fun, flexible, and varied job choice.
Your tasks may vary greatly between clients, so there's always something new to do.
Website Testers
Businesses hire website testers to evaluate their website performances and tasks customers may complete on the website, like making a purchase or using a contact form. You'll be analyzing the website based on specified criteria and performing a real-time video of yourself completing the task and narrating your thoughts. Good for side income, but you may have to sign up for a few to earn a decent amount each month.
Miscellaneous
Let the Part Time Work from Home Jobs Search Continue!
Surely, you can find several good companies to work for from this list.
These jobs have all been verified as accepting part-time employees or independent contractors to complete their jobs from home.
Before applying, don't forget to have a few minutes of time set aside to complete your applications in one sitting, as some of them can be lengthy or require short tests.
Get your resume application-ready too!
Especially for the professional positions, like medical coding, accounting, and tutoring, you'll need proof of previous experience and current references.
Even for jobs like virtual assisting and transcription, a professional resume can make you stand out among hundreds to thousands of applicants.
Good luck in your job search!
Related Posts: